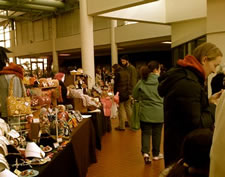 With holiday shopping in mind, Chrissy emails:
I'm trying to shop local and eco-friendly this year for Christmas gifts but am getting tempted by the one-stop shop appeal of the mall. Does anyone know of an area around here where there are a lot of local shops close together that sell stuff for kids and adults? I've tried Etsy but to be honest, I like to see the stuff in person especially with baby toys. All the stores I know of are pretty spread out so I thought you guys could help. Thanks!
If you're looking for a more in-person experience than Etsy, one local option is the TightKnit market in Troy on Saturdays (a little bit like Etsy in real life).
But that's just one spot -- we're sure there are a bunch of others around the Capital Region. Got a suggestion for Chrissy? Please share!
photo: TightKnit
Hi there. Comments have been closed for this item. Still have something to say? Contact us.