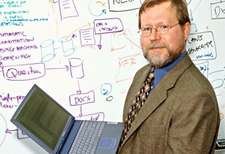 Interesting: a UAlbany research team has gotten a grant to develop a computer game that aims to train people how to recognize their own cognitive biases. From the UAlbany blurbage:
In partnership with the local game company 1st Playable Productions, the CYCLES project will develop a computer game that will teach players how to recognize six common cognitive decision-making biases: confirmation bias, fundamental attribution bias, bias blind spot, representativeness bias, anchoring bias and projection bias. The goal is to reduce players' dependency on bias in real decision-making situations by as much as 65 percent. "The problem is one that psychologists have been working on for a very long time with limited success," said [psychology researcher Laurie] Feldman.
The interdisciplinary team is headed up by Tomek Strzalkowski from UAlbany's College of Computing (that's him on the right, not impressive-looking whiteboard diagrams) and Information and Jennifer Stromer-Galley from UAlbany's Department of Communication.
The $8.7-million project is funded by US Air Force. And arm of the Office of the Director of National Intelligence is involved -- that arm, called IARPA explained earlier this year, why it's looking to these sorts of games:
A broad consensus exists that human decision making relies on a repertoire of simple, fast, heuristic decision rules that are used in specific situations. These decision rules can bias general problem-solving in ways that produce erroneous results. When an intelligence problem invokes these biases, analysts may draw inferences or adopt beliefs that are logically unsound or not supported by evidence. Cognitive biases in analysis tend to increase with the level of uncertainty, lead to systematic errors, filter perceptions, shape assumptions and constrain alternatives. Cognitive biases are unlikely to be completely eliminated, but research suggests that they may be mitigated by awareness, collaboration, and critical or procedural thinking processes.
Here's an article from Wired with some more context.
The idea that video games can be used to teach people things, or get them to see the world differently, is a growing field. A game designer named Jane McGonigal has gotten attention for the pushing for the idea. Here's a recent TED talk from her about the subject:
Can the way people play games translate to how they act in the real world? Good question. That's what researchers -- like the ones at UAlbany -- are trying to find out.
If you want to learn a little bit more about the types of cognitive biases, here's a song about them (really):
photo: UAlbany/Mark Schmidt
Hi there. Comments have been closed for this item. Still have something to say? Contact us.