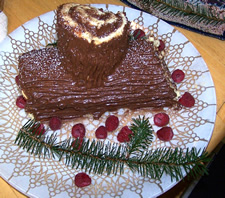 Kim asks a seasonally-appropriate question via Twitter:
Are there any bakeries in the cap region that sell yule logs/ buche de Noel for Christmas?
If you don't know Bûche de Noël from a bush, it's a traditional French Christmas dessert -- a sponge cake that's been frosted, rolled up, and then frosted and decorated to look like a yule log. [Wikipedia] [Serious Eats]
We had some vague memory that Mrs. London's in Saratoga makes Bûche de Noël (probably thanks to Ellen). So we gave them a call (581-1652 x303) -- and they do! Mrs. London's makes three types of Bûche, and each serves 10-12 people. They're $65 and must be pre-ordered and prepaid. Orders should be in at least a week before Christmas. And Mrs. London's is open until 4 pm on Christmas Eve if you want to pick up at the last moment.
Has anyone had the Bûche from Mrs. London's? We'd love to hear how it is.
And if you have a suggestion about other places for Bûche de Noël/yule logs, please share!
photo: Andrew Pendleton via Wikipedia
Hi there. Comments have been closed for this item. Still have something to say? Contact us.