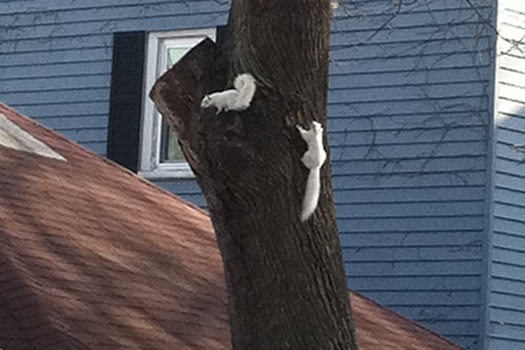 Today's Moment of Nature* comes via Amy Riddell at Emack and Bolio's, who noticed a pair of white squirrels playing (or whatever it is squirrels do) in the ice cream shop's yard.
Amy says the white squirrel has lived in the Delaware Ave neighborhood for a few years, and people have spotted two babies (one of them is in the photo with the mother). After much chasing, Bennett also spotted what could be the same white squirrel last year. (There have been white squirrel sightings in Troy, too.) [Photo This] [RPInsider]
A lot of people refer to white squirrels as albino, but most of the squirrels probably don't have that condition. They're actually just genetic color variants of regular gray squirrels, in which the genes for the white belly are active in other parts of the animal's coat (albinism is a different situation). Look for the eyes -- if they're not red/pink/blue, it's probably not an albino squirrel (and too bad -- because albino squirrels have their own preservation society). Some have argued the all-white fur could even be an adaptation to urban environments (we're skeptical -- but maybe it makes them easier to spot when they cross the street). [NYT] [Wikipedia] [Science Buzz] [The Wild Classroom]
Places with unusually large populations of white squirrels have taken the animals as claims to fame -- with fights over which place is actually the white squirrel capital of the country. Some of the claims include origin myths. There was even a white squirrel-related request for federal pork this year (in Tennessee). And, of course, the obligatory tribute video to the white squirrels from a town in North Carolina. [Roadside America] [NC Farm Bureau] [ABC News]
One more Delaware Ave white squirrel pic from Amy is after the jump.
* It's like that segment at the end of CBS Sunday Morning in which video of cranes standing in a wetland runs for a minute or two without voice over.
(Thanks, Amy!)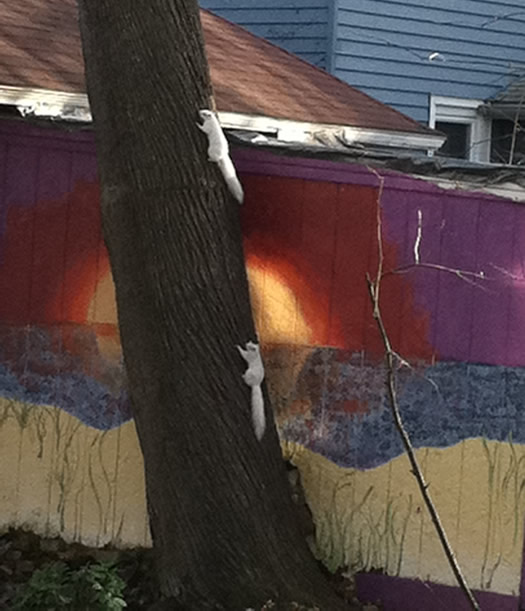 Hi there. Comments have been closed for this item. Still have something to say? Contact us.