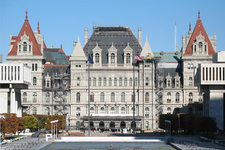 Andrew Cuomo and legislative leaders announced today that they've reached a deal to restructure the state's income tax.
The Cuomo admin is touting the restructuring as an attempt to "restore fairness to the tax system." Basically, it makes the tax structure more progressive -- that is, the more a person makes, the higher their rate. The admin says 4.4 million New Yorkers will get a tax cut under the new structure.
So, if you're under $300,000 (and more than $40k), you would get a tax cut under this arrangement. Above $300k, your taxes are going up (compared to the rate from a few years back). [NY Post]
As usual, it's little (or a lot) more complicated than that. The bracket breakdown in the press release doesn't really tell the whole story because it doesn't include the temporary personal income surcharge ("millionaire's tax") that's currently in effect -- the TU's Jimmy Vielkind has put together a spreadsheet that makes it a bit more clear.
The Cuomo admin says the new structure generates $1.9 billion in additional revenue for the state -- though that's about $2 billion less than what was generated by the "millionaire's tax", which expires at the end of this month. [NYT] [TU CapCon]
The deal announced today also includes funding for infrastructure projects, support for a constitutional amendment to allow full casino gaming, grants for flood recovery, a few other initiatives.
If you're thinking to yourself: "Wait, did I miss the part where this was all discussed and debated publicly?" The answer is: no, of course not. This is New York.
Hi there. Comments have been closed for this item. Still have something to say? Contact us.