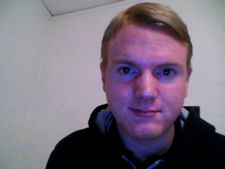 It's Monday, time for another My Exit on WEXT.
Here's tonight's guest DJ, with a preview of his 518-heavy My Exit show.

About 5 songs from Stephen's My Exit:
"Old Man Souls" & "Take Off Your Mask" - Possessed by Paul James
I was so lucky to catch this act at Valentines in Albany. They were playing with another band I selected for my show --Henry's Rifle. J on Konrad Wert, a teacher and now only part time musician, was visiting the area for his sisters wedding and was able to come down and play one of the greatest performances I've seen. Easily my favorite concert of the summer and one that was very under the radar.
"Devil's Child" & "Listen to the Wind" - Henry's Rifle
Henry's Rifle, a local artist, is another one-man band I selected for this set. Pairing very well with Possessed by Paul James, the (mostly) solo act of John Alfred Pipino is one of Albany's greatest new bands. You can catch Henry's Rifle any given day of the week at any one of the local venues; often at Valentines. You may even catch John on the street some night playing his banjo and stomping the beat against the wall, or whatever surface he puts his foot down on. You can check out the debut album at http://www.reverbnation.com/henrysrifle.
"She's Watching Me" & "Change My Ways" by The Killerados
The Killerados is an Albany duo which includes John Pipino on drums and friend Tj Hiemel on guitar. The Killerados have been my favorite (518) band for the past few years, and I will go a step further and say they are one of my favorite bands period. A great band to catch in the area and usually on a $5 budget. You get a combination of blues, punk and rock with great energy and a unique character that is certainly their own. The Killerados can play to any crowd and will win them all over. You may find the most recent Killerados recordings at their ReverbNation page.
"Little Bird" - The White Stripes & "Break 'Em on Down" - Soledad Brothers
Both of these bands have come and gone, but while they were running they were significant figures in the wave of more modern, uptempo blues/rock bands. Crashing symbols and steady foot tapping beats, I can never get enough of this stuff. I'm the type of person that needs their driving music and the miles go by a lot faster when there is a solid beat going.
You can hear Stephen's My Exit show tonight at 8 on 97.7 or at exit977.org.
Here's how to schedule your own My Exit show on WEXT.