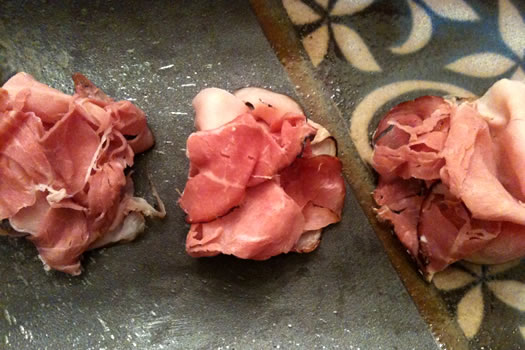 By Daniel B.
Sandwiched between the Westfalianschinken and Lachschinken is possibly Albany's most popular locally-made ham. And for something that is sliced so thin, it really is a mouthful.
Schwarzwälderschinken.
It's a lot easier to say once you learn that sometimes one impossibly long word is simply three words squeezed together. In this case it's Schwarz (Black), Wälder (from the word for Forest), and Schinken (ham). From there, if you take it slowly, the pronunciation is straightforward.
Recently I chatted with Glen Eggelhoefer, who owns Rolf's Pork Store with his brother Edgar and sister Rita. He helped me make sense of the many German hams and wursts at their store in Albany, and explained why his products are so damned good.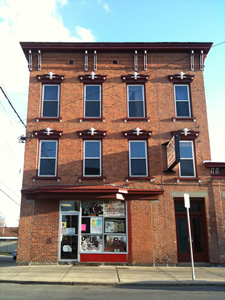 So, who is Rolf?
Rolf was Glen's father, who was a butcher over in Germany and opened the store on the corner of Lexington and Sheridan Avenues in 1968. But even before it was Rolf's the building was a meat store for the better part of a century. Glen claims that the store is the oldest existing meat market in upstate New York.
Glen and his brother took over 24 years ago. "Everything I learned was from my father. I never changed anything. Everything my father did, I still do the same way."
Rolf's Schwarzwälderschinken is wet cured and hot smoked. That would be different than the dry cured and cold smoked version made in the Black Forest region of Germany. But that's okay. Its light smoke and low salt content give this ham an enchanting aroma and delicate flavor. Glen tells me this is the most popular of the hams he sells.
It is sliced very thin and enjoyed on its own. In theory I suppose you could make it into a very special ham sandwich, but somehow I always seem to devour my stash on the car ride home.
So what's the secret?
"It's what I do to them. The way we cut 'em. The way we trim 'em. The way we cure 'em. It's my content. I use the lowest salt possible to cure a ham, and make it so it's preserved, yet I use no preservatives."
In short, it's salt, smoke and generations of craftsmanship.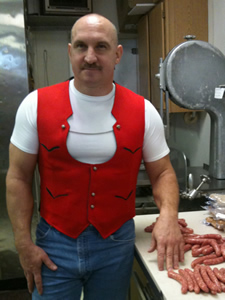 Glen clearly takes a lot of pride in his work. "I totally believe in my product. I believe the reason I look like this at 50 years old is because of what I eat. I'm a big meat eater. I do not eat vegetables." He also doesn't exercise or work out.
To be fair he's on his feet forty hours a week at the store, and while there, Glen's lifting thousands of pounds of meat every day.
Still, his products may be difficult for those who are not of German descent to navigate.
Glen acknowledges: "The American people, everybody knows what prosciutto is for some reason. Holiday Lachschinken, Bauernschinken, Westfalianschinken, they are all very similar to prosciutto, it's the same idea."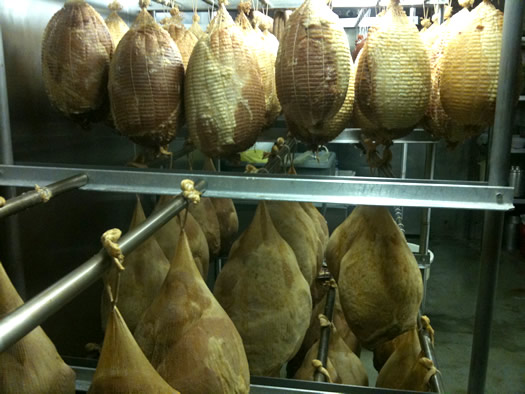 So we already learned that Schinken is ham. Bauer is farmer and the implication is that it was made on a farm. The one at Rolf's is imported from Germany and is most similar to prosciutto, except that it is also smoked. Sometimes the modifier is to denote the style of a region, like Westfalian (for the German region of Westfalia). Although in this case, the ham comes from New York City, and like prosciutto is dry cured. The Westfalianschinken has a much deeper smoke flavor than the Scwarzwälderschinken.
Other names are assigned based on what the product looks like. Lachs means salmon, and the lachschinken, at least in theory, is supposed to resemble smoked salmon.
Wurst is sausage. Brat is something you fry. Weiss is white. Knack is to crack, or the sound of biting into a Knackwurst. Frankfurters come from Frankfurt. Teawurst is served with tea.
Speaking of Teawurst, this is certainly not for everyone, but it's a raw pate of pork and beef that is lightly smoked. It comes either coarse or smooth, and you spread it on rye. Rolf's makes this in house, by freezing the meat for thirty days at a temperature of -10 degrees Fahrenheit, which apparently kills all the harmful bacteria. If you are a little bit adventurous you've got to give it a try.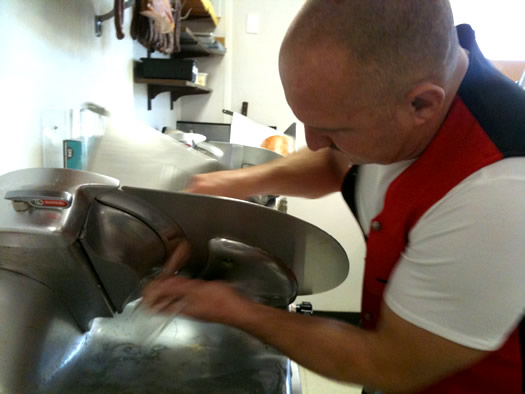 Top chefs all over the country are curing and smoking their own meats these days. At Rolf's this isn't anything new. It's what they have done for generations. I have the sense that a lot of people do not quite realize how lucky we are to have an institution like this in our midst.
Glen reminds me about Rolf's, "We've got no competition, everyone else went out of business," but "as long as we have someone to take over [the store], it'll stay here." The good news is that Glen's nephew is already in the back learning the business.
Hopefully this helps demystify the place for you. And now you can pick up some dynamite ham for your holiday hors d'oevers spread. The Teawurst is totally optional.
Daniel B. is the proprietor of the Fussy Little Blog.
Find It
Rolf's Pork Store
70 Lexington Ave
Albany, NY 12206
Hi there. Comments have been closed for this item. Still have something to say? Contact us.