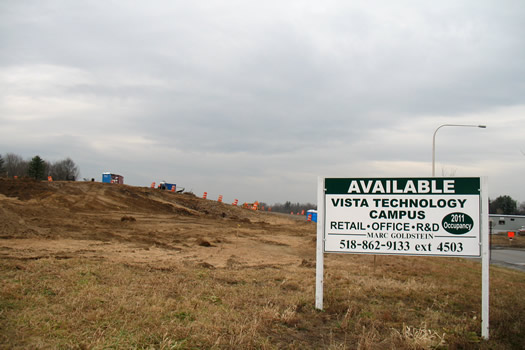 Thursday was the official groundbreaking for the Vista Technology Campus in Slingerlands. A lot of the attention was focused on one of the tenants already signed up: ShopRite. That makes three stores now officially announced/open for the area (there's a fourth planned for Colonie). ShopRite continues what appears to be a strategy to go to head-to-head with Price Chopper -- the Vista ShopRite is pretty much be right across the road from the Slingerlands Chopper. [Spotlight] [YNN]
Planning for the Vista site has been going on for a few years -- but Thursday's announcements would seem to indicate it's picking up momentum. It's a potentially significant development project. The site includes 150 acres of land planned for development. And the developer -- Columbia Development -- says its plan includes up 1.4 million square feet of office, research and manufacturing facilities, medical office, and retail space.
A few quick thoughts about all this...
+ As mentioned, the development will potentially take a large amount of land -- but the overall site is three times the size of planned development (about 450 acres, in both Bethlehem and New Scotland). Have a look at the satellite imagery. It's kind of amazing a space that big has sat open for so long so close to the Capital Region core.
+ The Town of Bethlehem is touting the site as a spot for tech companies that might be attracted here for GlobalFoundries (30 miles) and Albany NanoTech (4.5 miles). "The tech park has his own roundabout entrance that allows visitors to travel to the site from New York City or Boston without ever hitting a traffic light."
+ Like Albany NanoTech, this is another large development on/near the edge of the city of Albany (the Albany/Bethlehem line is just down Rt 85). Albany County exec Mike Breslin reportedly called Vista a "reverse commute" site today. If/when Albany NanoTech and Vista pull people here from outside of he region, we wonder how many of them will actually end up living in the city of Albany itself. [@Wiffc_Spotlight]
+ The plan for Vista sounds a lot like some of the plans that have been floated at one time or another for the Harriman State Office Campus. Maybe there's enough tech park to go around -- but it would seem the development of Vista could draw away some (or a lot) of the demand for that sort of development.
+ "Tech park" really is the go-to type of development now. It's right up there with "mixed-use." And don't forget "shovel ready."
Find It
Vista Technology Campus
LaGrange Rd
Slingerlands, NY 12159
Hi there. Comments have been closed for this item. Still have something to say? Contact us.