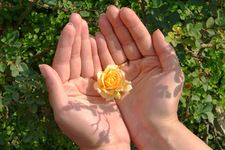 Looking to help, Anonymous emails:
I know a few AOA readers are involved in charitable work, so I was wondering if you could ask ... how one could volunteer to help on Christmas night? I'm staying in the US this year for the holidays, my buddies are out of town, maybe I can make myself useful. THANKS!
We'll expand Anonymous' question to include all the time around the holidays -- not just Christmas.
And if you can think of some way to just do something nice for other people, that would be great, too. Someone once shoveled our driveway while we were away for a few days over Christmas break, and it was just about the best thing ever.
Got a suggestion for Anonymous? Please share!
photo: Flickr user Hamed Saber
Hi there. Comments have been closed for this item. Still have something to say? Contact us.