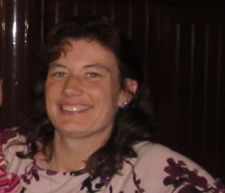 It's Monday, time for another My Exit on WEXT.
Here's a look at the set from this week's person -- which includes Dylan, Flogging Molly, and Glee...
Who?
Jackie Domin. I've lived in Scotia for six years after moving here from Fishkill. It was a bit of a return engagement for me, as I lived on Madison Avenue in Albany while interning at the Legislative Gazette in 1997. I have two great little girls, Sarah and Katie, and I work part time at Spotlight Newspapers.
How would you describe your taste in music?
My favorite songs tend to fall into two categories, across most genres: fun, catchy songs, and songs with lyrics that really speak to me somehow.
5 songs from Jackie's show:
"Burn" by Joe Shindle
This is one of those fun, catchy songs I was talking about. Joe is a good friend of mine from Lancaster, Pennsylvania, who's sung about everything from his Sixth Ward pride to the movies he'd like to be home watching instead of working.
"Shelter from the Storm" by Bob Dylan
There's a line in this song, "Try imagining a place where it's always safe and warm," that captures exactly how I feel about my parents' home in Syracuse.
"If I Ever Leave this World Alive" by Flogging Molly
I heard this song for the first time not long after my brother died in 2007. Mike was one of life's truly great guys, and I miss him everyday. I always think of him when I hear the line "Wherever I am you'll always be more than just a memory."
"Coma Girl" by Joe Strummer and the Mescaleros.
I love this song and the Excitement Gang sound like they're having quite a blast.
"Don't Stop Believing" by the Glee cast
I've never seen Glee, but I included the show's version of this song because it's the one my niece Shaina's chorus performed last spring. Shaina had a solo, and that, combined with the rhythmic "Da da da da da da da da," made for a very memorable tune.
You can hear Jackie's My Exit show tonight at 8 on 97.7 or at exit977.org.
Here's how to schedule your own My Exit show on WEXT.