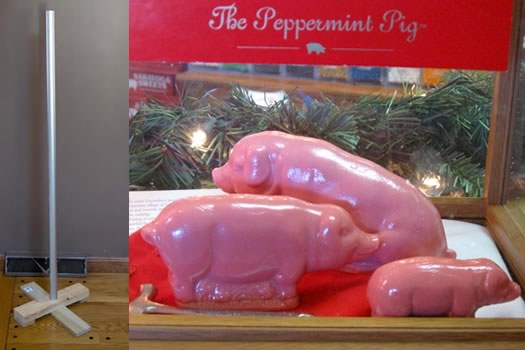 The Peppermint Pig drawing is now closed. But please feel free to continue airing your grievances.
We're celebrating Festivus early this year with a traditional Airing of Grievances.
So, gather round the unadorned aluminum pole and let it rip. You'll feel better. But here's the deal: grievances can not include personal attacks, nastiness or creepiness.
To balance the bitter with the sweet, we'll be giving Peppermint Pigs to three people who air the grievances in the comments. The winners will be picked randomly.
The Editors have already aired their grievances after the jump. We're looking forward to hearing yours. Merry Festivus.
Important: To be eligible for the Peppermint Pig drawing, your comment must be submitted by noon on December 21, 2011. You must include a working email address (that you check regularly -- seriously, we want to send you the pig) with your comment. One entry per person. Winners will be notified by 5 pm that day and must respond by noon on December 22.
Grievances aired by AOA Mary
The line at Uncommon Grounds
Here's how it works. If you want a salad, head to the back of the line by the salad station. If you want a bagel, you can move up past the salad station. Really, it's OK. And it moves the process along for the rest of us.
Patrick Stewart doing Enterprise car rental commercials
Seriously? Don't you have enough Picard money? You're an incredibly successful Shakespearean actor for God's sake. Leave some scraps for the faceless voiceover guys.
Yellow does not mean speed up.
Yes, Albany, this means you.
Pedestrians, you are not off the hook
If you must cross against the light, can you not saunter and take your sweet time? And when I stop short so I don't kill you, can you not act like I'm the one with the problem. I'm just saying'.
Mean people
I'm sorry were you not paying attention to my grievances last year? You're still out there. Stop it.
Grievances aired by AOA Greg
People who don't bag their garbage well enough
It drives me crazy to see litter on otherwise nice streets on/after garbage day because people haven't adequately bagged their garbage. Yep, you should put your trash in a bag. And that bag should go in a garbage can. That will keep your trash from being blown around or picked apart by animals. Haphazardly stacking your crap at the curb isn't really putting the trash out -- it's like temporarily littering with the hope that someone else will pick it up.
Red light runners
I understand that sometimes it's going to be close going through a light. But blowing through an intersection after the light has turned for a full second or two is just plain stupid. And it happens with surprising frequency in Albany.
Carrots
I don't know when it happened, but it seems that almost all the carrots that come in a bag at the supermarket now taste borderline terrible. It's like they're not even carrots -- just orange sticks made of some possibly-organic matter.
Facebook and Twitter
Useful -- yep. Diverting -- sure. But they've also opened up a whole new range of opportunities for people to demonstrate just how cranky, vain, too easily indignant, and lacking in basic self awareness that so many of us are. It's like social media are often a mirror of our worst selves.
Festivus pole photo: Flickr user M. Keefe
Hi there. Comments have been closed for this item. Still have something to say? Contact us.