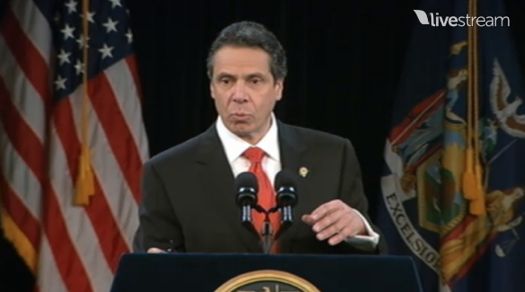 There will be all kinds of coverage of Andrew Cuomo's State of the State address everywhere over the next few days. But for right now, here's a quick, scannable overview of this afternoon's speech -- enough to get you through a conversation today -- you'll find it after the jump.
Spoilers: It mentions casino gambling and convention centers, and "reimagined" government.

Last year
2011 was incredibly successful. Left and right worked together to pass marriage equality bill, enact a property tax cap, pass a budget on time, and all kinds of other stuff. A lot was done. There was a lot of working together. No, really, a lot of working together.
Now, for the next year: Cuomo proposed a three part plan.
Part 1: Economic Development/Jobs
Create the nation's largest convention center
+ New York City's Javits Center is now the 12th largest in the nation, "obsolete" and not big enough to be a "top tier competitor." Cuomo proposed a plan to build a state-of-the-art convention center at Aqueduct Racetrack -- a $4 million convention center with 3,000 hotel rooms situated between New York City's major airports. Cuomo said the convention center would replace the Javits Center, provide tax revenue and create jobs.
+ Follow the Battery Park City Model for development -- the government will master plan the project and the private sector will carry it out
Address the crisis in Western New York
+ Buffalo has the 3rd highest poverty rate in the nation behind Detroit and Cleveland, with
28 percent of the population living in poverty. Cuomo proposed investing $1 billion in Buffalo, comparing it to the nanotechnology investment in Albany. "Twenty-five years ago, the state began investing in the Albany area's high-tech industry. Today, the Albany area is a world-class center for nanotechnology innovation and the home of major semiconductor manufacturers. We saw great results from a substantial, sustained state investment."
Regional Economic Councils
Cuomo gave credit to Lt. Governor Bob Duffy for having success with the state's regional economic councils. Says they have exceded everyone's expectation and called for a second round of competitions among the regional councils for project funding.
Tourism
+ NY Open for Business campaign because we're also competing with countries across the globe. Create TV campaigns to attract people to our state. Promote and generate tourism throughout the state, especially in Upstate NY.
Casino Gambling
Also to increase jobs and revenue, Cuomo is calling for a constitutional amendment to build Atlantic City-style casinos off Native American reservations. "It's not a question of whether we should have gaming in New York, we have it now." Cuomo pointed out there are currently 29,000 electronic gaming machines in the state -- more than any state in the Northeast or Mid-Atlantic. He said the debate that we don't want to get into the gaming business "is not true." He says the amendment could bring $1 billion in economic activity.
Infrastructure
Cuomo is proposing a new approach to infrastructure. Currently agencies like the Port Authority and MTA all have their own infrastructure and construction plan. Cuomo proposes they work together to achieve "a comprehensive vision for the state." He suggest hiring public sector experts and accelerating construction. "We can't do this on government time. This has to happen in real time. It can't take three years to put a shovel in the ground ,it just can't work that way anymore and it's not going to."
+ The plan includes improving more than 100 bridges and includes building a new Tappan Zee Bridge, repairing 200 miles of road, flood control projects and improvements to 48 state parks.
+ Proposing an "energy highway" system to bring energy from Northern and Western New York to Downstate New York. "Let's connect supply dots to need." He compared the projected to Eisenhower's interstate system. All of this, he says, will also create jobs.
Part 2: Reimagining government
Reorganizing state agencies
+ New York must commit to holding the line on spending this year and closing the deficit with no new taxes and fees.
+ Reform pension system and create new tier 6
+ Create a mandate relief council to hold public hearings. Cuomo wants an up or down vote from the legislature on mandate relief in 2012 saying local governments deserve that.
Education
+ Vowed to be the lobbyist for the students.
+ NY is #1 in the nation in education spending but #38 in graduation rates.
+ Calling for a bipartisan commission for a new blueprint for education in conjunction with
legislature.
Public safety
+ Seeking a statewide network of emergency responders
+ "100 year floods happen every two years now, so something is going on."
+ Cuomo said, due to flooding last year, he witnessed firsthand that NY's emergency management system is spotty.
+ Jerry Hauer will lead the public safety effort for NY.
Part 3: Plan for a progressive New York
SUNY System
Creation of NY 2020 program allowing campuses to compete for grants and become economic generators for the region. The program will give out 3 awards of $20 million each to provide funding for SUNY.
Foreclosure relief unit
Plans to establish a foreclosure relief unit to provide counseling and mediation in mortgages to help homeowners stay in their homes.
Tenant protection
Create a tenant protection unit to enforce tenant protection laws.
Reform food stamp laws
Plan to promote outreach, increase enrollment and end the stigma associated with food stamps. Stop fingerprinting requirement for food stamps. "I understand fraud detection ... but don't make a child go to bed hungry because your government wants to come up with a fraud program that requires fingerprinting."
Expand the DNA database for crime
Currently it's applied to only 50 percent of all crimes. Cuomo proposes expanding it to "100 percent of all crimes." (The administration's prepared text qualifies this as an aim to "propose a bill requiring the collection of a DNA sample from any person convicted of a felony or Penal Law misdemeanor.")
Tax Fairness
Proposes appointing a tax reform and fairness commission to go through tax code and close loopholes. Wants to see New York have the fairest tax code in the nation -- an incentive to job growth
Campaign finance reform
Pass campaign finance reform.
____
More, more, more
Here's the video from the speech:
+ Here's the Cuomo admin's press release for the speech, which includes an overview of many of the proposals.
+ Here's the 36-page "book" released by the admin for the speech -- it includes the prepared text:
Cuomo State of the State 2012 Building-A-New-New-York-Book
+ Here's a liveblog of the speech over at State of Politics.
+ The React-o-matic at TU's CapCon.
image: NY Governor Livestream
Hi there. Comments have been closed for this item. Still have something to say? Contact us.