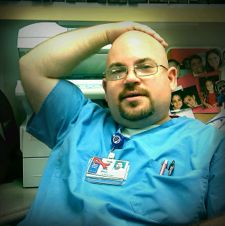 We were off Monday, so we missed the first My Exit profile of the new year, but you can catch the replay Sunday morning on WEXT.
Here's a look at from this week's eclectic set.
Who?
Seth Casale. I am a nursing student and I work at Albany Medical Center in the Emergency Department. I am a husband and father and a huge music enthusiast.
How would you describe your taste in music?
My taste in music ranges greatly from quirky pop like MIA to beats by Prefuse 73 to Northern European black metal. I love anything that has interesting composition and/or has a great beat. I developed my appreciation for music by listening to great progressive bands like Jethro Tull and Yes. I have a drive to constantly seek out new music. I love music so much and feel very lucky to share these songs with everyone. It was a great challenge trying to make a one hour show!
A few songs from Seth's My Exit:
+People of the pavement -- Absynthe Minded
Just a really great upbeat swinging piece from a Belgian band I really dig.
+Flaming Lips -- A Spoonful Weights a Ton
I think that album changed a lot of people's way of listening to music and opened a lot of minds.
+Dismemberment Plan were a great band out of MA and I think they are among the most overlooked and underrated bands around.
+Threw in a little old school Genesis with Dancing with The Moonlit Knight.
A lot of people are not even aware of the Peter Gabriel era of Genesis and it sure doesn't sound like the poppy 80's stuff!
+Timbre coup are a really great local band working hard to put out interesting and technical music in a jam band influenced milieu.
You can hear Seth's My Exit show this morning at 10 on 97.7 or at exit977.org.
Here's how to schedule your own My Exit show on WEXT.
Hi there. Comments have been closed for this item. Still have something to say? Contact us.