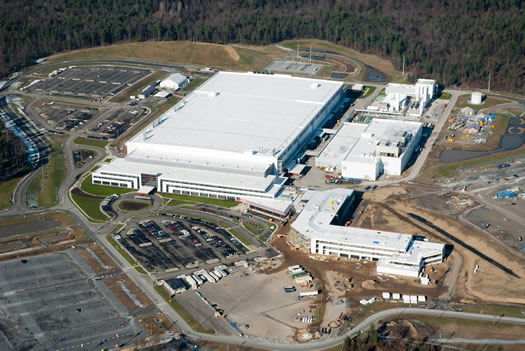 GlobalFoundries announced today that its chip fab in Malta has started making chips. The company is working with IBM on an initial production run of chips at both the Malta fab and IBM's fab in East Fishkill.
GloFo says the chips are based in part on technology that was researched at UAlbany's College of Nanoscale Science and Engineering. And here's where the "nano" part of this comes in: the chips make use of transistors that are just 32 nanometers wide. To say that's tiny doesn't quite cover it -- 4 million 32 nm transistors could fit on a period at the end of sentence. The GloFo fab in Malta -- Fab 8 -- was built to make chips with 32 nm and 28 nm transistors, and smaller.
The company says it expects to be ready for volume production by second half of this year. Once Malta is at full production capability, the fab will be able to produce 60,000 chips a month.
GloFo says it's created 1,000 jobs at the Malta fab -- with another 400 expected this year. It's having a job fair this Thursday at the Saratoga County admin building.
photo: GlobalFoundries
Hi there. Comments have been closed for this item. Still have something to say? Contact us.