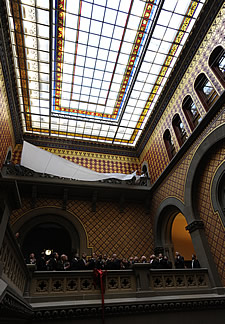 A 5th floor balcony -- bathed in light from the newly open skylight for the Assembly staircase -- is Capitol Tonight Nick Reisman's pick for the "coolest" place in the Capitol. And it is rather cool. That's a photo of the recently unveiled skylight on the right. Nick has his own small photoset over at the State of Politics post.
The unveiling of the skylight was part of the Cuomo admin's recent announcement of the completion of the "major restoration projects" at the Capitol. The admin is now projecting that the entire Capitol restoration project will be "substantially completed" by this fall. That's ahead of schedule -- the original 14-year project (!) was slated to be finished in 2014. (As it happens, that sort of timeline is just about right for New York -- original construction of the Capitol lasted three decades.)
The Cuomo admin also recently launched a website that includes info and photos about the Capitol's various exhibits and tours.
Earlier on AOA: After Andrew Cuomo ordered the the Capitol's Hall of Governors re-opened to the public in January 2011, Akum checked it out -- including its "fascinating journey through the history of facial hair."
photo: Cuomo administration Flickr