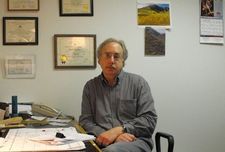 It's Monday, time for another My Exit on WEXT.
Here's a look at the set from this week's person.
Who?
I'm Mark DiMartino, from East Glenville. I'm a Licensed Clinical Social Worker treating people with addictions. The work is tough, sometimes tragic but in the long run always rewarding. I'm Married with two sons, one in the Peace Corps and the other a grad student at UB.

How would you describe your taste in music?
I've never met a genre of music where I didn't find something to like. My tastes however lean towards guitar driven rock and blues. At the same time you can find me every last weekend in June at the Old Songs Festival of Traditional Music and Dance at the Altamont Fairgrounds, at SPAC enjoying the Philadelphia Orchestra or even the New York City Ballet.

Wishbone Ash- Strange Affair
This is taken from Live in Chicago 1992. I've listened to WA since their seminal album Argus was released in 1972. There is a beauty to the twin lead guitars playing in harmony. Although the personnel has changed several times, they are still led by original guitarist Andy Powell. I've seen them three times since 2004 at the Van Dyck in Schenectady.

Peter Fampton- Out of the Blue
On this song Frampton is joined by former Humble Pie bandmate Steve Marriott one of the great soulful rock singers of all time.

Jethro Tull- dot Com
From the album of the same name in 1999. I have always enjoyed the intricacies of their music led by the brilliant Ian Anderson and dot com is an excellent example. My favorite stadium concert of all time was seeing Tull on Halloween 1978 at the New Haven Coliseum.

Rory Gallagher- Keychain
Stage Struck 1980. I saw Rory at a club in West Hartford, Ct. in September 1979. He had amazing dexterity and passion when he played and a warm Irish charm. Unfortunately he died in 1995 at the age of 47 due to complications of a liver transplant.

Elvis Presley- I Feel so Bad
Recorded in 1961 from Elvis Presley Hit Story. I wanted a song that was not that well known and showed his bluesy side and before Vegas took over his music and his life. I had the bittersweet pleasure of seeing Elvis May, 1977, 3 months before he died. A stage hand placed the guitar strap over his neck but Elvis never played it. That same individual handed him scarves to wipe the sweat off his brow and Elvis threw them to the audience. I actually caught one! But with all this, he sang brilliantly and if you shut your eyes you could imagine Elvis in his prime.

You can hear Mark's My Exit show this morning at 10 on 97.7 or at exit977.org.
Here's how to schedule your own My Exit show on WEXT.
Hi there. Comments have been closed for this item. Still have something to say? Contact us.