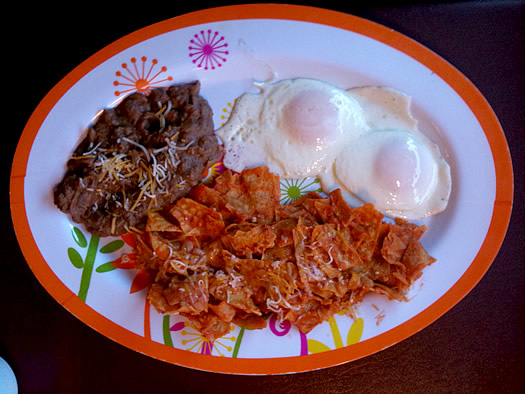 By Daniel B.
The hardest part about eating chilaquiles is pronouncing chilaquiles.
Say it with me, as I say it out loud: chee-lah-KEE-lehs.
Very good, I knew you could do it.
Now practice it at home and don't drop that last "l." Then come this weekend, it will be time to take a trip to Schenectady near the Rotterdam line.
Yes, Schenectady, for yet another surprisingly delicious Mexican treat. Unlike at some ethnic restaurants, at The Point Café you can't just point at this dish on the menu or order by number -- because their chilaquiles are not on the menu. But don't let that stop you from one of the most soul satisfying breakfasts in the region.
So what exactly is this marvelous dish? And why is it so good?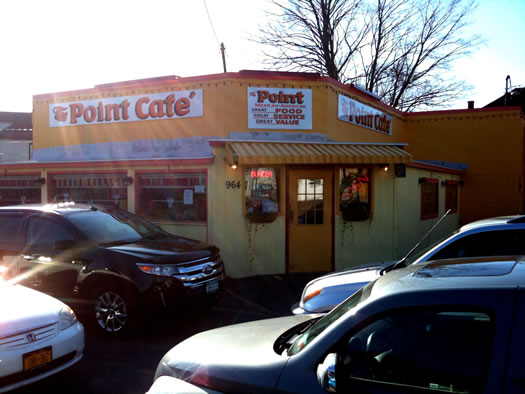 The French have their pain perdu, the Chinese have congee, and the Mexicans have chilaquiles. As different as all these dishes are, they share one basic principle: "Waste not, want not."
Fundamentally, chilaquiles are a delicious way to use up stale corn tortillas. Now, Mexico is a big place, and there are plenty of regional variations of the dish, although there are some commonalities. All chilaquiles are tortillas softened with sauce, warmed through and served with some kind of protein.
In California, I came to know chilaquiles as more of a tortilla and egg scramble. Depending upon who you listen to, this is either a central Mexican variation that can be found in the state of Michoacán or some other dish entirely called migas that is found widely through Texas (and not to be confused with the Spanish dish of the same name).
Food can get complicated.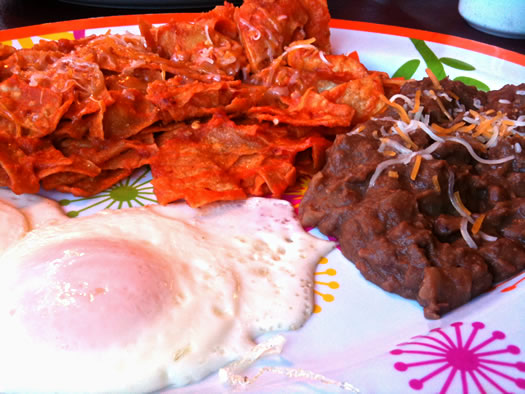 Regardless, at The Point Café they make a traditional breakfast style of the dish with crisp tortilla wedges, softened with a red tomato-based sauce, and topped with cheese. The chilaquiles still have some tooth to them, but they are far from crunchy. They have the full flavor of corn, in a softened, savory, and comforting form. The taste is deep, rich and well seasoned, but not hot from chile or in any way sharp.
Once deciding on an order of these, the only decision you will need to make is how you would like your egg cooked. And the answer to that is easy--actually over easy. But if you insist upon yours being sunny side up, that would work too. The important part is to have a runny yolk.
If this is your first experience with chilaquiles, it may be a bit of a jarring experience to look down upon your plate of eggs, with sautéed tortillas and refried beans where the toast and potatoes should be. Don't panic. You can eat this just like any other diner breakfast. Naturally, by that I mean, slathered in hot sauce with bits of everything in your mouth all at once.
Eaten together with refried beans in all their unctuous and earthy glory, and the silky golden yolk of a fried egg cascading over every bite, this is a seriously good way to start the day.
A hefty plate of chilaquiles isn't inexpensive at $9.99, so feel free to get your eggs scrambled or any other way that you like. After all, The Point Café isn't actually a bona fide taqueria. No, it's a Mexican-American diner, complete with a neon sign hawking their burgers, chicken wings and gyros. So fair warning, if you ask for the eggs scrambled, you will end up with diner eggs. Granted, the chilaquiles will still be delicious, just not quite as opulent.
Now don't go thinking that since this is a Mexican breakfast, it's only for those who enjoy fiery foods. It's not. But for those who do like to bring the heat, this dish provides the perfect bass notes to serve as a vehicle for pickled jalapeno slices or bottled Mexican pepper sauces. The Point Café has a rotating selection of these and on my visits to the restaurant I spied both Valentina and Tapatio.
It's a new year and we're in the doldrums of winter. It's time for a hot, hearty, soothing, filling, satisfying, and delicious breakfast. This bright and sunny little place can get you back on the right track. Sunday mornings it's bustling with people who are ordering things besides the chilaquiles. Don't be one of them.
Daniel B. is the proprietor of the Fussy Little Blog.
Find It
The Point Cafe
964 Helderberg Ave
Schenectady, NY 12306
Hi there. Comments have been closed for this item. Still have something to say? Contact us.