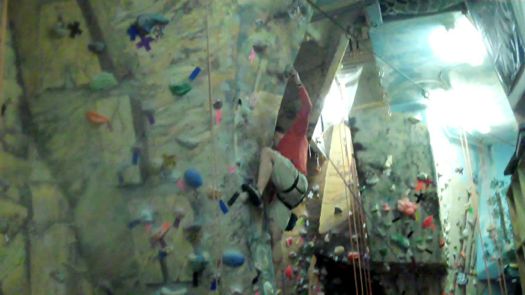 By Danielle Sanzone
At first glance the Albany's Indoor Rockgym might remind you of a Chuck E. Cheese play place on steroids. There are ropes and rocks to climb, a ceiling climbing challenge and a 60 foot zip line. But underneath it all is an experience you can't get anywhere else in the country. A.I.R is home to the only indoor caving system in the U.S.
Multiple entrances open to dark winding trails that you can explore for a few minutes or a few hours.
And it's a pretty intense experience.
So what's it like inside?
First of all, it's dark. So dark we couldn't get good pictures. And unlike an outdoor caving experience, you're not allowed to bring flashlights. The dark, says A.I.R. manager Regina Race, is part of the experience. It's a way to challenge people physically and mentally.
Not everyone can handle the caves. I've been behind friends who start to enter and turn around quickly because of the dark and confined space.
You're navigating in pitch black, sometimes through areas that you can barely fit through -- so you need to know how to move and control your body. I've gotten stuck a couple times, but part of the challenge is being able to figure out how to get unstuck -- which I did. Eventually. You feel your way around with your hands and feet and your eyes eventually adjust a bit to the lack of light so you can see slightly in the cave system. As you see more light, you know there's an exit coming. It might take you to a zip line, an overlook spot, bungee cords, or a rooms full of mirrors.
A.I.R. owner Manuel Cruz says the cave is not meant to be simply entertaining. "It's no Disney ride." Like the rock climbing experience at A.I.R., Cruz and his partner, Dennis O'Leary say the experience is about overcoming baggage and fear.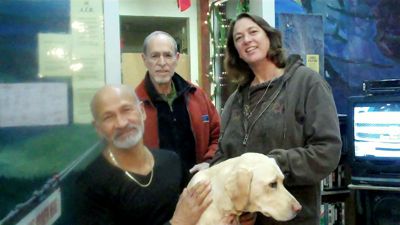 A.I.R. owner Manuel Cruz with friend Richard Felch and A.I.R. manager Regina Race.
I think what keeps the more than 7 thousand annual A.I.R. visitors coming back for more is that the challenge is also fun. One trip you might not feel up to much of a challenge, but next time you'll come more experienced and more physically and mentally prepared. And there's nothing like the sweet victory when you make it through.
Once you get over the claustrophobia, darkness, and seemingly-never ending feel of the caves, you just may find yourself hooked on the adrenaline-filled sport -- or maybe just on finding the route to the zipline (which I'm told is through the bungees).
You can do the cave system alone or with friends (pick some who will be willing to wait for you if you do need a bit more time to wiggle through a small spot). You have to go barefoot and without a harness into the caves.
Has anyone ever gotten stuck? Only once. When they first opened they had cut someone out of the wall. Since then, they've made a number of changes, built in trap doors and developed a test you have to pass before you're allowed into the caves. You need to be able to get through a painted triangle which is as tight as the smallest opening the cave: 21 inches tall.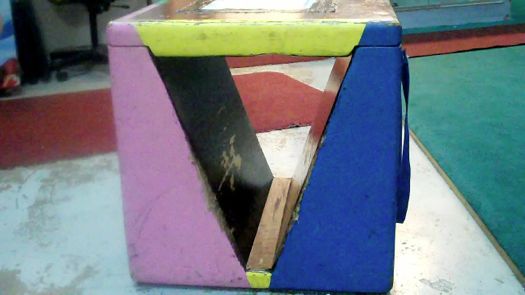 If you get lost while you're in the caves, here's a hint that's worked for me -- just go down and to the left for as long as you can and that should get you out.
A.I.R offers punch card memberships and monthly memberships, along with group activities for Scouts and religious groups. For $28 a person, a group of at least 20 people can sleep overnight on the soft, matted floor -- free to cave and rock climb throughout their stay.
Important to know:
+ If you're over 18 you'll need to sign a waiver, and those under 18 need parental consent.
+ The fee is $18.50 -- $12 for using the facility and $6.50 for renting equipment. The fee allows you to use the entire facility -- ropes, walls, zip line, caves -- everything.
+ They do not accept credit cards, except American Express, but they do take checks.
Find It
Albany's Indoor Rockgym
4 Vatrano Road
Albany, NY 12205
Open:
M-F
3PM-10PM
Sat & Sun.
Noon- 10PM
Payment: They accept cash and checks but no credit cards except American Express.
Hi there. Comments have been closed for this item. Still have something to say? Contact us.