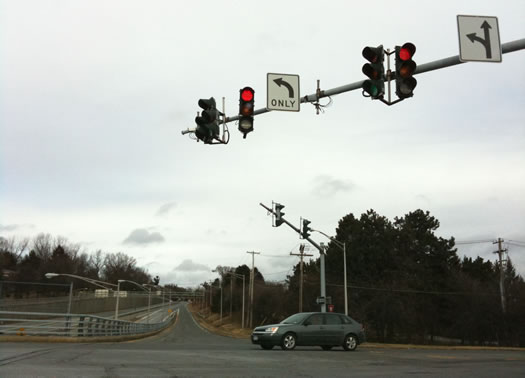 By AOA Greg
Choose your own adventure time: You're at the traffic light at the end of the I-90/Route 9 off-ramp at Northern Boulevard in Albany. There are four cars waiting to turn left at the red light. You wait. You wait. You wait. Minutes pass. The light doesn't change. Do you...
1. Turn left on red.
2. Go around one of the cars ahead of you so you can turn left on red.
3. Move to the right lane so you can turn right on red.
4. Sit there and hope that the light will change. Someday.
I'm curious about what you would have done in that situation. Because this happened to me the other day -- and the choices made by the other three cars in line surprised me. It made me wonder I had missed some memo about community standards regarding slow-cycling/possibly broken traffic lights.
Here's how it shook out.
Two cars in front of me, one behind. We're all waiting for seemingly forever. The first car in line turns left on red. The second car pulls up. Waits for a few seconds, then it turns left on the red.
I pull up to the line. It feels like we've been waiting a long time, but I'm guessing it wasn't any more than about three minutes. The car behind me gets impatient, drives around me and turns left on red from the right lane.
Struck by what I just saw, I sat there for probably another 15-30 seconds. The light is still red. So I move into the right lane, look left, and turn right on red. I drove to Van Rensselaer, turned around in the Wolfert's Roost parking lot, and headed back the way I intended. Annoying, but not a big deal.
I don't know whether the light was stuck or it just takes that long to turn. And I don't think it really matters. If you're not willing to wait, I think the correct thing is to turn right. Because, in addition to being illegal, turning left on red is dangerous. And it's not like going right was a huge inconvenience.
There ended up being very little drama in all this (it was an amount approaching zero). There was no wreck. No one got pulled over. But I think it struck me in part because it's at the intersection of two of my pet peeves about traffic lights in Albany: 1) The lights seem to be poorly coordinated, and often cycle without regard to traffic; and 2) people often regard red lights as optional.
The social/psychological angle to this is interesting to me, too. (Tangent: are certain personality types more/less likely to turn left on red?) So I'm curious about what you would have done. Is it ever acceptable to turn left on red? Or to put it another way, when is it OK to break a law because it's annoying or inconvenient?
Hi there. Comments have been closed for this item. Still have something to say? Contact us.