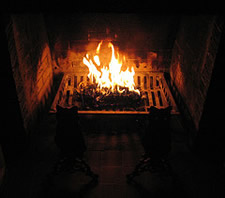 With an eye toward next month, Robert emails:
So I want to plan a nice Northeast winter weekend getaway for me a my beautiful lady. Something real romantical for Valentine's Day. Unfortunately, I've never been skiing so I don't even know where to start. I basically want to eat good, peep some beautiful scenery, bundle up in front of a warm fireplace with a bear skin rug and love my lady. Can you and your all knowing readers help me out on this one?
One of the good things about this is region is that there are a lot of small hotels/inns/bed-and-breakfasts in scenic places that are not too far: the Berkshires, Vermont, the Hudson Valley, and so on.
If you're willing to go a bit farther, there's Montreal and Quebec generally. It's like a whole different country up there.
Got a suggestion for Robert and his lady? Please share!
Elsewhere: A similar question came up recently from one of Kristi's readers.
photo: Flickr user Max Wolfe
Hi there. Comments have been closed for this item. Still have something to say? Contact us.