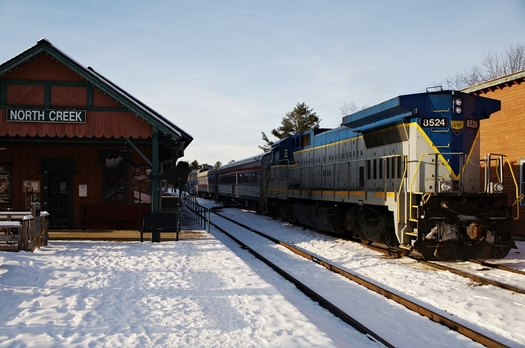 By Bennett Campbell
It was still dark enough to see stars overhead when I came to the Saratoga Springs train station, bundled up against single-digit temperatures. By the time the sun rose over hills and treetops I was riding toward the Adirondacks on a trip that until this year, no one had taken since 1942. The Gore Mountain Snow Train was bound for North Creek and I had a panoramic view of the snow-covered landscape rolling by.
After the jump, a little bit of my trip, complete with photos.
The Ride
The Snow Train is operated by the Saratoga & North Creek Railway, the folks that run the popular Polar Express trips around they holidays. They began these scenic trips in late December. They run on weekends along the Hudson River, have food and drink service and arrive a few minutes from Gore Mountain. The trip is more than a lift for skiers and snowboarders --It's a gorgeous ride.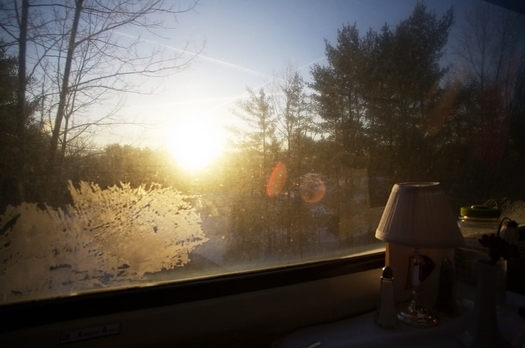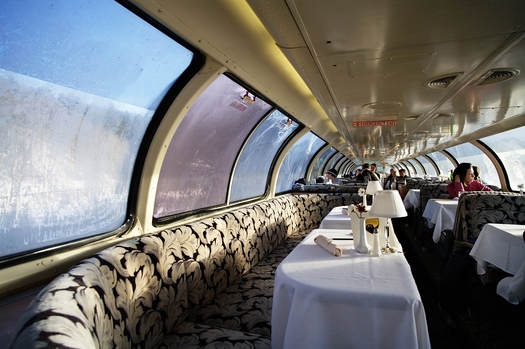 The train leaves pretty early --promptly at 7, so we were glad they served breakfast on board. There were eggs, oatmeal, corned beef hash, and biscuits with gravy.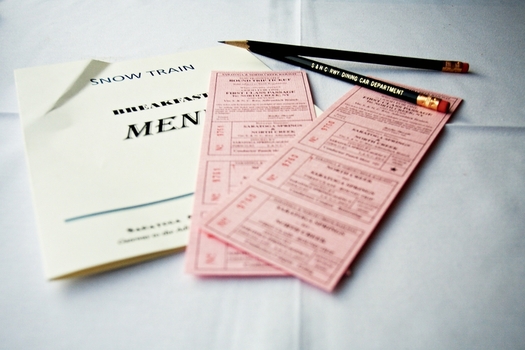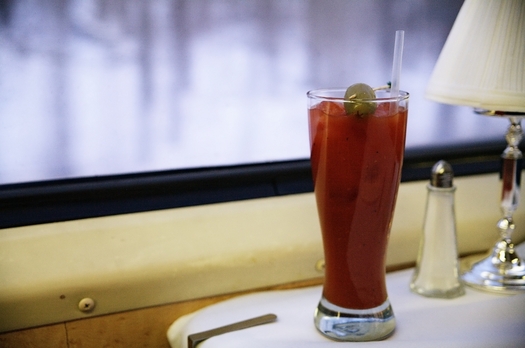 I fortified myself with a sparse but, considering I was on a train, refreshing bloody mary. Life doesn't get much better than watching icy rivers and flocks of wild turkey pass by with a decent cocktail in hand.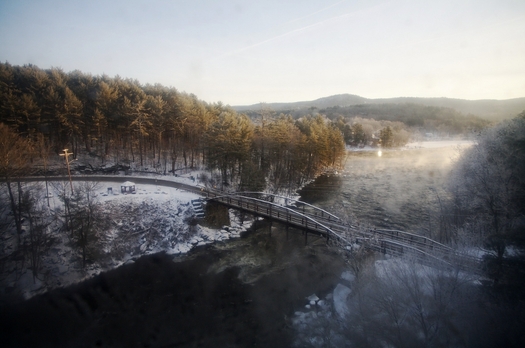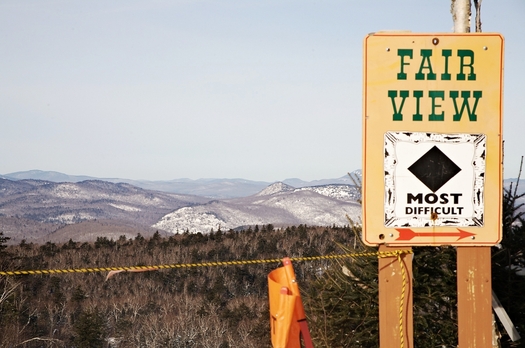 North Creek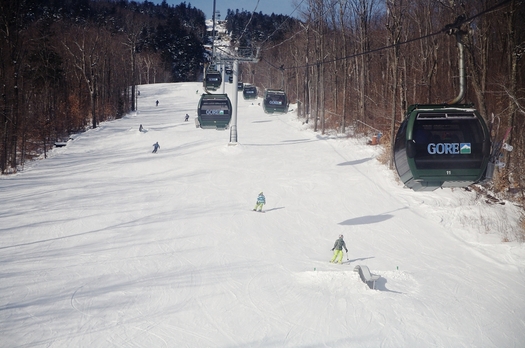 Skiers, snowboarders and tubers can head up to Gore, but if you're not much for winter sports, you might want to go just to check out North Creek. You'll have seven hours to spend, so if you don't like small Adirondack towns, it may not be right for you, but I loved it.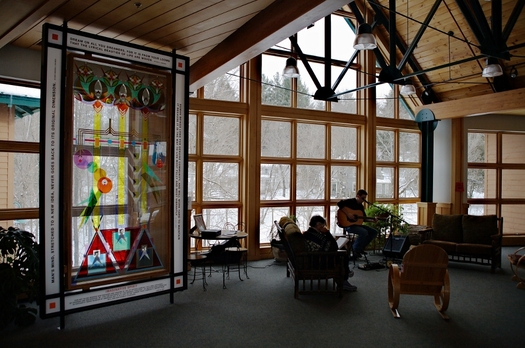 The Tannery Pond Community center should be your first stop. If you're lucky there'll be a show in their impressive theater, but regular events are held and it features a gallery currently displaying large, gorgeous charcoal and pencil nature scenes. Among the local shops is The Hudson River Trading Co. -- half rustic, half Adirondack kitsch, but a good reason to visit North Creek in itself.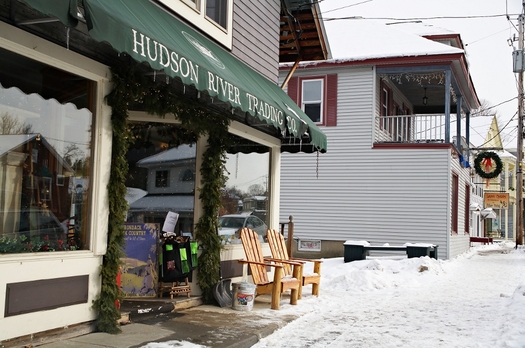 As for food, you've got a pretty good array of options. There's cheap beer and pickled eggs at the Barking Spider, sandwiches at Cafe Sarah, burgers at Marsha's, a glass of wine and live music at Bar Vino, or upscale pub fare at Trappers Tavern. To be honest, North Creek isn't the tourist destination that Lake George or Lake Placid are. Especially in the midst of a recession, it's not as vibrant as the bigger-name destinations - though there is local color. The proprietors know this, the result being a genuine friendliness, eagerness to please, and real warm homey charm that's hard to find elsewhere. The residents of North Creek may have even more at stake in the Snow Train's success than the Saratoga & North Creek Railway itself, and they aren't shy about it.
The trip had one major snag. Come the 4:30pm departure from North Creek, the crew broke the news of a technical malfunction meaning they couldn't get us back home by rail. Holed up in the depot, they took care of us the best they could with sandwiches and drinks. Most of my fellow waylaid passengers were in a good mood, maybe because they'd been careening down the slopes for a few hours, but temporary friendships formed, jokes and stories were told, and NFL playoff updates were relayed. The railway crew commandeered some of the shuttle buses and managed to get us back to Saratoga only a few minutes later than we would have arrived by train. I'm disappointed that I didn't get to experience the ride back - which should be more impressive later in the season as daylight stretches further into the evening - but they were as accommodating as possible.
Prices for the trip start at $30 (round trip) for coach and $55 for a dome car. You can combine the ride with lift tickets, tubing passes (kind of like sledding without having to walk back up the hill. Also known as the best kind of sledding), and overnight lodging in North Creek. The Snow Train runs Friday through Sunday from late December through late March. It boards in Saratoga Springs at 6:40am and in North Creek for the return trip at 4:00pm.
You should know: The Saratoga & Northcreek Railway invited media members to ride free last weekend. We were curious about it and thought you might be too, so we sent Bennett to check out the experience.
Bennett chronicles his adventures at his blog, Photo This.
Hi there. Comments have been closed for this item. Still have something to say? Contact us.