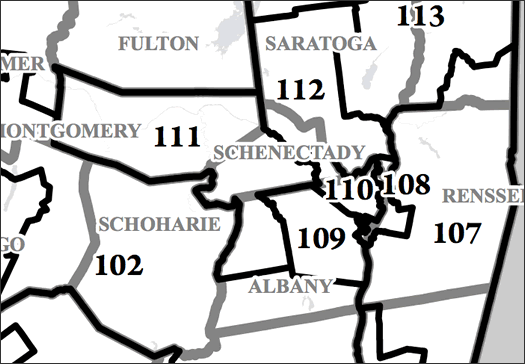 Update: Andrew Cuomo says he'll veto the new lines, which probably means negotiations and adjustments. [AP/WSJ]
____
The task force in charge of drawing new districts for the state Senate and Assembly released its slate of proposed maps this week. As this is New York State politics, there was much criticism. And we'll get to some of that in a bit.
The Capital Region could potentially end up being affected by a lot by the proposed new district lines. Most significantly, the task force is proposing to add a new Senate district that would cover the southwest corner of the area. But there are also shifts in the city of Albany, Saratoga Springs, Schenectady, and Troy.
Reading about all this, we found it kind of hard to keep all the old and new maps straight. So we've we've put together before-and-after versions of the Capital Region's legislative districts -- the current districts side by side with the proposed new lines.
Citizens of the Capital Region, meet what could be your new gerrymanders...
(Background on the word "gerrymander.")
The maps are above in large format. Scroll all the way up.
Capital Region highlights
+ There's been speculation that the new state Senate district -- Senate 46 -- was created for George Amedore, a Republican who currently represents a western chunk of the Capital Region. Amedore is being a bit coy about whether he'd run for the seat. [Daily Gazette]
+ The new districts would move much of Troy out of Roy McDonald's district and into Neil Breslin's district (Breslin's current district -- which all of Albany County -- has been chopped up as part of the creation of the new district).
+ The Assembly maps shift the line in the city of Albany -- Jack McEneny's district was pushed farther uptown, and Ron Canestrari's district now covers the Delaware Ave neighborhood.
+ Jim Tedisco's new Assembly district wouldn't include most of Saratoga Springs.
+ Bob Reilly's Assembly district was shifted out of the Clifton Park area and toward Schenectady. He's not happy about that. He called up Jimmy Vielkind, unprompted, to call the new lines "completely, egregiously unfair." [TU CapCon]
Criticism
Andrew Cuomo apparently isn't a fan of the new lines (he's been threatening to veto the result for weeks) -- a spokesman's reaction to the maps: "At first glance, these lines are simply unacceptable and would be vetoed by the governor." [TU]
Good government groups have been criticizing the redistricting process for months. And the release of the maps didn't change that. The head of Common Cause New York said the maps "appear to continue the long tradition of partisan gerrymandering we've come to expect."
The Senate maps, in particular, were targeted for criticism, as Senate Republicans were accused of drawing the lines -- and adding a district -- in order to keep control of the chamber. Of the Senate maps, NYPIRG's Bill Mahoney wrote, "clearly the most gerrymandered lines in recent New York history." He explained with some data:
There are several methods of measuring how representative of voters districts are. The typical deviation from the ideal population is one of the few completely objective criteria that can be used. While judging this set of proposed maps by this yardstick, the Senate's maps are clearly the most gerrymandered lines in recent New York history. The Assembly's are slightly better than 2002's final maps, but fall far short of providing mathematically equal representation.
Senate: Districts 3% or further from ideal population:
1984: 0
1992: 0
2002: 19
2012: 50
Senate: Districts within 1% of ideal population (as proposed in Gov. Cuomo's bill)
1984: 44 out of 61
1992: 47 out of 61
2002: 11 out of 62
2012: 3 out of 63
Assembly: Districts 3% or further from ideal population:
1984: 15
1992: 49
2002: 70
2012: 67
Assembly: Districts within 1% of ideal population:
1984: 92
1992: 46
2002: 18
2012: 26
A site called the New York World has put together a map that makes it easy to see state Senate Republicans' strategy at work.
Maybe the most honest assessment of the process from a politician came from Jack McEneny, who chaired the Assembly side of the task force. When asked whether the process was non-partisan: "No. I think it was done by people who are very much in politics and know exactly where they're drawing the lines." [State of Politics]
maps: LATFOR
Hi there. Comments have been closed for this item. Still have something to say? Contact us.