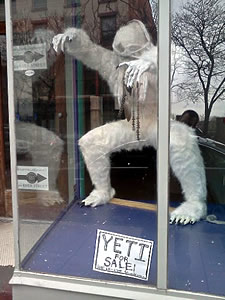 This made us smile: Kristofer snapped this pic of a yeti for sale in a storefront on River Street near Monument Square in Troy this past weekend.
No doubt this has been a difficult winter for local yeti, what with the lack of snow and all that. We can only hope this guy finds a good new home.
Is this your yeti? We'd love to hear the backstory.
They yeti is by Amy Pollicino. She writes in the comments:
That is right, this sweet, cuddly, well behaved Yeti is looking for a new home. Even with the mild weather and lack of snow he has remained well tempered and optimistic that he may find a good forever home somewhere in the Capital Region :) He was originally created for the Winter Wonderland window display contest run by the Troy BID. Now that the contest is over he is hoping to find a more permanent place to reside. Although he appears to be more fitting for a colder climate he enjoys troy and Upstate New York, curious to stick around to possibly meet up with one of his close cousins, the Sasquatch. If you have any interest please contact me vie FB or email PollicinoA@yahoo.com
(Thanks, Kristofer!)
Hi there. Comments have been closed for this item. Still have something to say? Contact us.