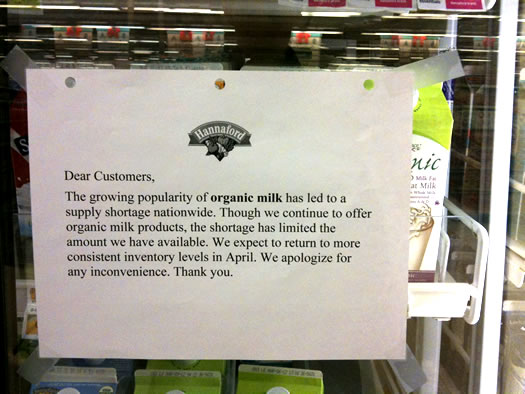 Over the last month or so we've noticed signs popping up on dairy cases at both Hannaford and Price Chopper noting that there's an organic milk shortage. And the shelves in the case have appeared rather bare at times. (We were the ones who took the last half-gallon of organic milk at the Slingerlands Price Chopper the other day. Sorry about that.)
So, what's going on?
The short answer
It's a matter of supply and demand. From a sign posted in the Hannaford on Central Ave in Albany:
Dear Customer,
The growing popularity of organic milk has led to a supply shortage nationwide. Though we continue to offer organic milk products, the shortage has limited the amount we have available. We expect to return to more consistent levels in April. We apologize for any inconvenience. Thank you.
Eric Blom, a spokesman for Hannaford, told us via email that the supermarket chain has seen "a substantial increase in demand for organic and natural products in recent years." And it's not just milk -- Hannaford's also been dealing with a shortage of cage-free eggs. (Price Chopper didn't respond to our questions about the situation. If it does, we'll update.)
The organic milk shortage is nationwide -- but the New York Times reported at the end of December the supply/demand imbalance has been most acute on the East Coast. And that's meant emptier shelves and higher prices. We asked Blom about higher prices, but he said Hannaford doesn't comment on pricing of specific products for competitive reasons. [NYT]
The longer answer
Like most things, the organic milk situation is a little more complicated than it first seems.
It's true, demand is rising -- sales of fluid organic milk were up 13 percent last year. And with the increasing demand, you'd think an increase in supply would be following. But that shift hasn't happened smoothly because organic dairy farmers say they're getting hammered by rising costs for inputs such as feed and fuel.
Ed Maltby -- the executive director of the Northeast Organic Dairy Producers Alliance (NODPA), an org that represents organic dairy farmers -- tells us feed represents about 30-40 percent of an organic dairy farmer's total cost of production. And feed costs have increased more than 40 percent over the last year. Farmers say they can't afford to buy the feed necessary to produce more milk. So even as demand for organic milk is increasing -- and in some cases, the price, too -- the supply is not.
Maltby says an organic dairy farmer in New York explained it to him this way:
"Our farm has only seen $1.50/cwt* of that $10/cwt store shelf increase in our milk check, soon to be a $3.50/cwt increase, or 50 cents/cwt more than what we received a little over two years ago when organic corn was $300 a ton; this winter we are paying $525 a ton."
[A cwt is a "hundredweight", the standard unit of wholesale milk -- there are about 12 gallons in a hundredweight]
That's prompted NODPA to call for distributors and retailers to raise the retail price for organic milk -- and pass along that increase to farmers. The org is pushing for the amount farmers get paid for their milk to increase by about 16 percent in the short term, and about 28 percent over the long term. Without the increase, the org says more farms will go out of business or exit the organic market.
Organic Valley, one of the major organic milk processors, says it's raising the price it pays to farmers by $2 per hundredweight in March. Says the co-op in a press release: "As a farmer-owned cooperative, Organic Valley has historically adjusted its pay price to meet the needs of and assure a fair livelihood for its members."
The signs in both Hannaford and Price Chopper are predicting more stable supplies of organic milk by April. Maltby tells us he's not sure why. "Perhaps they are thinking the effects of a small increase in [amount paid to farmers] will allow farmers to afford to pay for increased feed, but the increase in pay price isn't enough for that. In May in the Northeast the cows will be out to grass which usually is when there is more milk but it's difficult to estimate what effect that might have."
It's not an easy business
Every few months there seem to be stories about dairy farmers in upstate New York scraping to get by. The business is hard -- for conventional dairies, organic dairies, and even those that have gone the boutique route. The challenge was highlighted recently when Milk Thistle Farm, an organic boutique dairy in Columbia County, announced it's shutting down. The farm sold much of its milk in NYC, where its products had a popular following and earned much praise from media outlets and chefs. Things had looked so bright that the farm was planning an expansion in northern Columbia County and hoped to start selling in the Albany market. But Milk Thistle owner Dante Hesse told NYT that the farm had a host of unexpected problems, and "The odds are just not in favor of small-scale agriculture." [Milk Thistle Facebook] [TU] [NYT]
Hi there. Comments have been closed for this item. Still have something to say? Contact us.