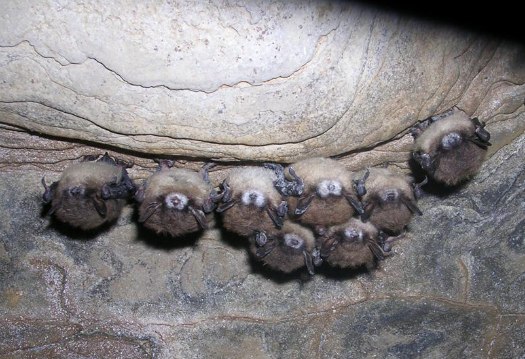 White Nose Syndrome -- the bat disease first identified in the Capital Region -- has killed as many as 6.7 million bats, according to recent estimates by biologists working with the US Fish and Wildlife Service. Since first being documented in 2006, the disease has now spread to 16 states -- and at many sites it's killed almost 100 percent of the bats. It has some biologists worried that some once-common varieties of bats could be facing extinction. [US FWS] [NYT]
The "white nose" in the syndrome's name refers to a fungus that grows on the face of the bats. Last fall researchers confirmed the fungus was responsible for the syndrome after 100 percent of the bats exposed to it in captivity developed the symptoms in a study. The fungus infects the bats' skin and causes lesions. [Nature News]
In 2010, New York State's Department of Environmental Conservation reported the White Nose Syndrome was likely in all bat caves in the state. The population of some species of bat had declined by 90 percent. [NYS DEC]
The disease was first identified in Howes Cave in Schoharie County -- it spread to other caves in the region and large bat die-offs followed.
Bats don't necessarily have the best reputation with a lot of humans, but they're an important part of the ecosystem because they eat huge numbers of insects -- including mosquitos.
photo: Nancy Heaslip, NYS DEC
Hi there. Comments have been closed for this item. Still have something to say? Contact us.