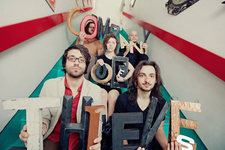 Apparently powerless to resist the draw of the Capital Region, Company of Thieves is scheduled to play a show at Jillian's February 24. Tickets are $10 ($12 at the door). Openers: Erin Harkes, and Wild Adriatic.
This will be the band's fifth show in the area over the last three years, by our count. Either they really love it here, or people here really love them. Maybe both.
Bonnie Raitt
The Palace announced Bonnie Raitt will be playing there June 2. Tickets go on sale this Friday -- they're $52 and $62. The opener is Marc Cohn (yep, the "Walking in Memphis" guy).
Company of Thieves photo via their Facebook page