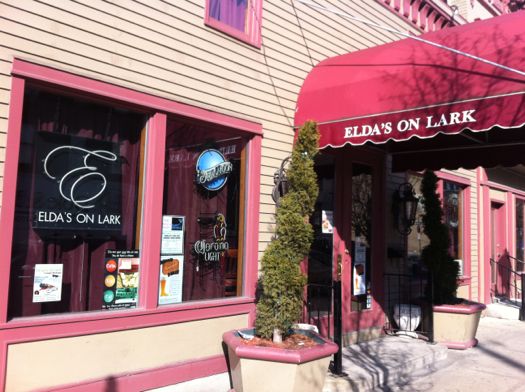 This Wednesday night there will be no Laughs on Lark. The stand-up comedy showcase that's become a staple of Lark Street night life over the last year has been canceled until further notice.
The event usually takes place at Elda's, but last Friday night Albany police and members of a zoning enforcement task force told owner Elda Abate, and the owners of several other clubs around Lark Street, that they had to shut down their events.
Here's why.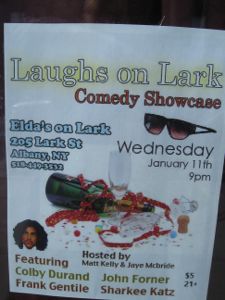 The city of Albany says these clubs are in violation of the city's zoning ordinance. They're licensed to operate as restaurants or bars, but not for amplified live entertainment -- so, no open mic nights, or comedy with a microphone. They'd need a zoning variance to do that.
Club owners we spoke to say they didn't know they were violating the law and didn't realize they needed a variance. Elda Abate told us she's been holding entertainment events for twelve years and never realized she was in violation.
So we checked in with Jeff Jamison, director of the Division of Buildings and Regulatory Compliance for the city of Albany. Jamison says a number of restaurants and bars in Albany have been operating as night clubs illegally. Elda's was one of four clubs the task force visited on Friday night, but Jamison says this wasn't some kind of crackdown. He says they were responding to a complaint about an allegedly illegal nightclub at Jackie's Place on Washington Ave. Code enforcement didn't find anything there, but one of the officers mentioned that there were some other clubs that may have been operating illegal night clubs, so they stopped by to provide them with warnings. Jamison says they stopped at Elda's, Pinto and Hobbs, and Rocks. Of those three, only Rocks had the proper variance. Pinto and Hobbs has since applied for one.
Jamison says that a use variance can be hard come by under the current law. Applying for a variance only costs $125, but the variance gets denied immediately and the issue comes before the city's board of zoning appeals. Until the board reaches a decision, Jamison says the club is usually allowed to continue to operate -- unless there are health or safety concerns. Since Pinto and Hobbs applied for a variance, they'll be able to hold their popular karaoke nights until the BZA comes to a decision.
The Common Council is working on a new cabaret law that would change the permitting process for nightclub entertainment. And that's not necessarily a bad thing -- the current law is a little weird. In addition to the odd apply-for-a-permit-that-will-automatically-get-rejected process, nightclub entertainment variances are attached to the land, not the business. So if a bar gets a variance to have what it says will be quiet acoustic music, and two years later it gets sold to someone who puts in a mosh pit -- or starts singing Wagnerian opera or something else the neighborhood might not appreciate -- the bar and its new owner still have the variance, so they can do that.
Jamison says the proposed cabaret law will make things simpler for club owners because permission to host entertainment will no longer be tied to the land where the venue sits. Under the proposed law, club owners would apply for a cabaret license once a year. They would have to pay an annual fee of somewhere between $300 and $900, depending on how many people the venue can hold. And the proposed law would also allow for a temporary license at a cost of $50 to $100 for up to two dates per year.
Under the proposed system, the decision to grant the license would move from the zoning board of appeals to the city clerk's office -- which has prompted concern among some neighborhood groups that they'll have less of an opportunity to voice opposition to problem licensees. [TU]
The new, more straight-forward system also includes what some businesses might consider significant drawbacks. They'd have to apply every year, which not only is a matter of more paperwork, but also a yearly opportunity to have their license shot down. And the permit fee is yet another expense for small businesses.
The Common Council's planning committee is scheduled to discuss the proposed cabaret law February 15 at 5 pm. The meeting is open to the public -- and there will be a public comment period. So if you want to get your voice heard about the matter -- for or against or different -- that's a prime opportunity to speak up.
Update: We got a question about where this meeting will be. Committee meetings are usually held in the court room adjacent to the Common Council chamber in city hall. The council caucus also usually meets in that room.
[Word of the Friday enforcement action via @AllThingsEllie]
Hi there. Comments have been closed for this item. Still have something to say? Contact us.