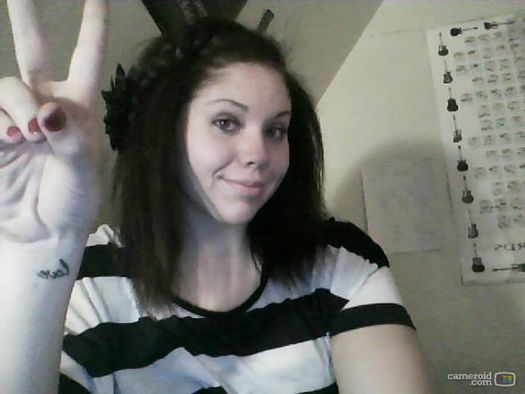 It's Monday, which means WEXT is running another My Exit show -- where the listeners get to pick their own playlists.
Here's this week's person...

Who?
Tasha Davis. I'm from Albany and attend UAlbany with the hopes of getting my master's degree in social welfare. I keep myself busy with work and school and of course my love of music!
How would you describe your taste in music?
There are very few genres of music that I don't like and I will give anything a listen to. If you look on my iPod, I have everything from Ingrid Michaelson, to Atreyu, to the Rent soundtrack on there. I am a HUGE supporter and fan of local music and have plenty of local bands occupying my music collection as well.
A few songs from Tasha's My Exit:
All of the songs that I played were from local musicians, to share my passion of the local arts.
"Paper Mache" by Lindsey Mae
Lindsey has one of the prettiest voices that I have ever heard. Her lyrics always make me feel inspired to write. This song in particular always puts a smile on my face with it's sweet lyrics and gentle beat.
"Forbidden Love" by Mirk
The first time I saw Mirk was at Alive at 5 and fell in love instantly. They have so much talent in this band, with 7 members, it's one of the bigger bands that I know about in this area. This song in particular is so upbeat and catchy, if I hear it once, it's stuck in my head all day.
"What We're Made Of (Batter Up!)" by The Summer Switch
This band is one of the most talented bands in the 518 in my opinion. This song is really upbeat but the lyrics are pretty serious. We've all been in a place where you might have wanted to take something back you've done and this song encompasses that perfectly for me in all aspects.
"Mistress of Seduction" by Eric Benjamin
Eric Benjamin, who is also the lead singer for the local band See You Next Year, has one of the most mesmerizing voices I've ever heard and is amazing on the guitar. This song in particular is one of the most hopelessly romantic songs I've ever heard and makes me want to fall in love every time I hear it.
"Every Gollum Needs a Smeagol" by I Was A Hero.
I love this band because they are so fantastic live. They engage the audience in such an amazing way and have very loyal fans. I love this song because they talk about a bunch of things that have happened to them in real life and that makes them so much more relate-able as a band, and really, who doesn't wanna just tell someone to "shut up" sometimes?
You can hear Tasha's My Exit show tonight at 8 on 97.7 or at exit977.org.
Here's how to schedule your own My Exit show on WEXT.

Hi there. Comments have been closed for this item. Still have something to say? Contact us.