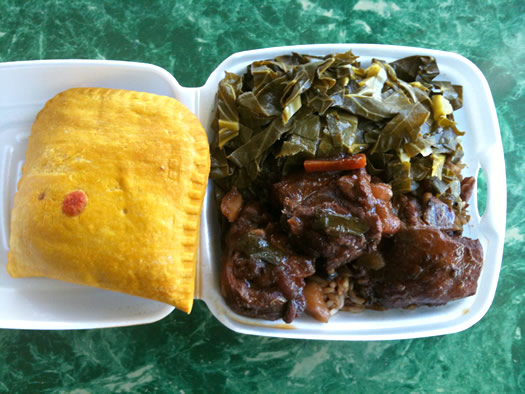 By Daniel B.
Today the temperature in Montego Bay, Jamaica is expected to get up into the low 80a. Jamaica is a warm place, but I can't say I have ever been. The closest I generally come to the island is sipping Wray & Nephew overproof rum mixed with coconut water while listening to Harry Belafonte.
Refreshing rum drinks aren't exactly on the top of my list in the middle of February. But warming, lusty, and sensuous stews are just what I need to take some of the chill out of an Albany winter (even a relatively mild one).
How this hot and steamy cooking technique rose to prominence on a tropical island is beyond me. Yet things like jerk chicken, oxtail stew, and curry goat are classic Jamaican dishes. So is their lesser-known cousin, brown stew.
All of these and more are available at Orchids, a tiny restaurant on the edge of Rotterdam. But you may only have two weeks to get there before Rosemarie Colman takes her cooking to a new Schenectady location. Her new digs may be nicer, but there is something quite charming about eating this great food at a gas station.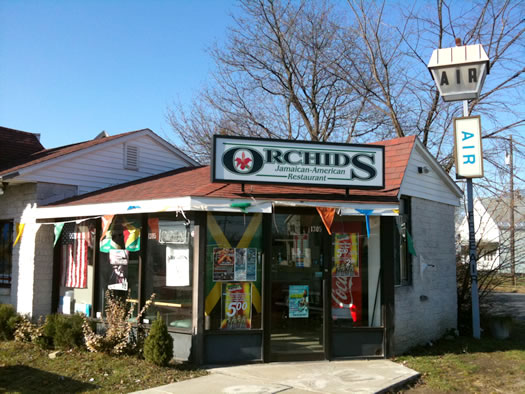 So, Orchids is not technically in the gas station. There is an entirely separate entrance. But the old air pump sign flanks the restaurant's entryway. And no, there aren't any petroleum fumes. Trust me, I'm very sensitive to these things.
Inside there are only two rickety tables and five chairs. Despite the restaurant's small size, I've never had a problem getting a seat. Pretty much everyone takes their food to go. So, you are welcome to stay and eat your food out of its unglamorous styrofoam container with a plastic fork and a paper napkin.
You are here for the food, not the ambience. And specifically, if you can make it between the hours of 11 am and 2 pm Monday through Friday, you are here for the brown stew lunch special. It's a densely packed container layered with rice and peas (in this case, kidney beans), three chunks of the most tender chicken on the bone you can imagine (with gravy), and a heap of collard greens (in theory there are other options, but diverge from the collards at your peril). All of this food is a paltry five dollars. And if for some reason it's not sufficient, you can supplement it with a Jamaican jerk chicken patty for less than an extra two bucks.
If you cannot make it out to Rotterdam for lunch, you've got until 9 pm most nights to get a dinner of the stuff, which will set you back eight dollars for a regular or ten dollars for a large. Besides coming with more meat, the dinners also come with fried plantains.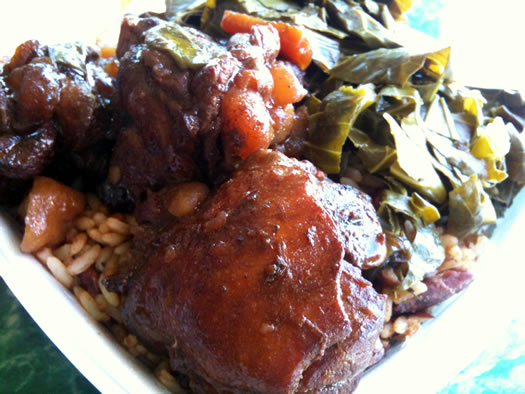 Now let's talk chicken.
Some people may avoid Jamaican food because it has a fiery reputation. On the flip side, I know there are other folks out there who gauge an ethnic restaurant's authenticity based on how much heat it can pack into the food.
These factors leave brown stew chicken as an outsider of the Jamaican food world, because this isn't a fiery dish. It's sweet and savory, and astonishingly tender. The meat holds onto the bone, yet flakes off cleanly even with just a flimsy plastic fork. Its rich, clinging gravy is lustrous and not greasy at all. In some ways it's redolent of chicken teriyaki, with the sweet and salty flavor profile. Except the brown stew has a greater depth of flavor and aromatic complexity in addition to its meltingly tender texture.
Still, it's not entirely for the faint of heart. This is dark meat chicken chopped on the bone. Some pieces aren't immediately identifiable as thigh or leg, and that may give some diners pause. And given that bone has been hacked through, there is an occasional fragment to work around.
But these two things work together to bring flavor to the dish. And that's what brown stew chicken is all about, because while it may not be fiery, it is far from bland. Its rich and comforting presence in the Capital Region brings some of the warmth from the islands to our frigid part of the world.
This Jamaican oasis will continue to exist at its current location through February. Perhaps it will remain open in March. But come April, the plan is to open in a larger space where more people can sit down and enjoy this food. There may even be a buffet. (The exact future location seems to be up in the air -- I'll update when it's official.)
Don't wait. Get down there now. Then when the new place opens, you can tell everyone how you still love it, but miss the mysterious charm of the hole in the wall at the gas station.
Just call first before you make the trek. And bring cash.
Daniel B. is the proprietor of the FUSSYlittleBLOG.
Find It
Orchids Jamaican-American Restaurant
1305 Altamont Ave
Rotterdam, NY 12303
(518) 952-7182
Hi there. Comments have been closed for this item. Still have something to say? Contact us.