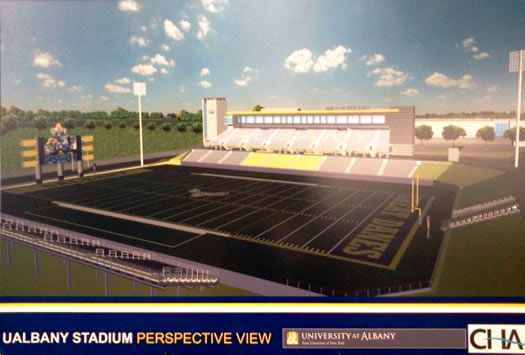 This week UAlbany announced that it's moving ahead with its stadium and sports facilities project, and revealed a few designs. The project includes:
+ A football and soccer facility that will have 4,000 permanent seats, with another 2,000 berm seats and 2,000 temporary bleacher seats. The school says its Division 1-AA football team is currently playing on the same field it used as a club team in 1970. UAlbany moved up to Division 1 in 1999. (Completion expected fall 2013.)
+ Upgrades for the university's track and field facilities. The school says it can't currently host an NCAA event because its facilities aren't compliant. (Completion expect winter 2013.)
+ And a new multi-use synthetic turf field for recreational and intramural use. (Completion expected this fall.)
The entire project is expected to cost $24 million -- of which the school says $18 million will come state appropriations, and $6 million from fundraising. That's downsized quite a bit from the original plan, which included a 25,000 seat stadium and would have cost about $60 million. [Biz Review]
photo via UAlbany Facebook
Hi there. Comments have been closed for this item. Still have something to say? Contact us.