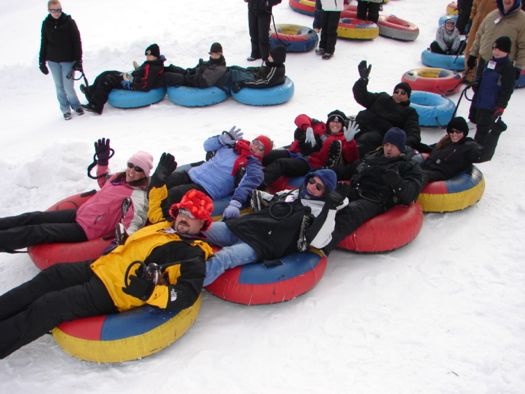 By Danielle Sanzone
Sometimes your inner six year old just wants to bundle up and go out and play in the snow. But this year, that inner six year old is probably a little disappointed. Finding snow to play in is a little more challenging than usual. You've got to go where they make it -- which often means you need to be a skier to enjoy it.
But I've compiled a list of a few places where you can find snow,not just for skiing, but for tubing. Yep, there are a few weeks left to go tubing. You'll find a list of places to go after the jump, along with a little about what to expect from each place.
Tubby Tubes Company
1289 Lake Ave., Lake Luzerne, NY (Map)
Hours:
Sat.10-6, Sun. 10-4 (open President's week from 10-6)
About 1 ¼ hours away from the Albany area on Rt 9N. They've got several snow chutes. Tubes range from 50 feet to 1,000 feet. You can get a gentle push from the attendant to start you off or you can spin quickly down a bump-filled route -- depending on how daring you are.
There's a route that has a bigger inclines with bumps, another that's faster, and even one that snakes around. Tubers walk their big, inflated tubes up the hills and slide down their chosen chute.
Price: $15.95 for 2 hours, $18.95 for 4 hours, $21.95 for full day, $2
off for groups of 10 or more

West Mountain
59 West Mountain Rd., Queensbury, NY (Map)
Hours:
Mon and Fri 3-9, Sat 10-8, Sun 10-6
About a 45 minute drive from the Albany area
West mountain is a ski facility that also offers tubing, so when you need a break you can lounge in the lodge with a hot bowl of soup, enjoying the views from the foothills
of the Adirondacks. They also tow you up the mountain so you won't have to walk.
The only problem is that a few other dozen people had the same idea and you may have to wait in a colorful tube line for 30 minutes at a time -- like you're at a theme park in the winter.
Runs: Six lanes - two 1,000 feet long with a gradual 100 foot vertical drop and four 700 feet long with a gradual 65 foot vertical drop. It takes about 15 seconds to get to the bottom, on average, and people are allowed to hold onto friends and family members' tubes.No bumps on the chutes. Parents are not allowed to carry children on their laps. There is no height minimum so parents have to decide for themselves if their kids can handle the ride.
Open throughout winter as long as they can make snow.
Price: $17 for 2 hours, $22 for 4 hours, Groups of 10 or more save $3.
Willard Mountain
77 Intervale Rd., Greenwich, NY (Map)
Hours:
Weekends 10-6
This ski resort is about a 45 minute drive from Albany.
Runs: Three lanes, each 800 feet downhill with a 500 foot flat run at the
bottom to slow tubers down. No bumps. Tubers aretowed to the top, unstrapped by an attendant and released down the
chute.
Usually open until mid-March or as long as they can still make snow.
Prices: $15 for 2 hours, $21 for 4 hours


Gore Mountain
Peaceful Valley Road, North Creek, NY (Map)
Hours:
11-9 daily
Runs: 800 foot, lift-services chutes
Rules: 36" height requirement
Prices: $17 for 2 hours


Hunter Mountain
Hunter, NY
Hours:
President's Week 9-9, Sun. 9-59-9, Sun. 9-5
About an hour south of Albany.
Runs: 9 chutes nearly 1,000 feet long
They allow small groups to hook up and go down chutes together, depending on weather conditions. It takes about 30 seconds to get to the bottom.
One side of the hill is steeper, so tubes go a little faster on that side.
They have tow ropes, so you can get towed to the top.
Rules: 42" height requirement
Prices: $20 for 2 hours, Groups of 15 or more $16 and each group gets
1 free ticket
Space is limited in each 2 hour session. Hours may change so call ahead to reserve times. 800-486-8376.
Windham Mountain
South Street ¼ miles west of ski area at 33 Clarence D. Lane Rd,
Windham, NY
Runs: 650-foot chutes, 8 lanes
Rules: Must be tall enough to get into and out of a tube
Prices: $20 for 2 hours, $25 hours for 4 hours, $15 for Friday nights
Hours: Fri. 4-8, Sat. and holidays 10-8, Sun
10-4
Know any others? Add them to the list.
photo: West Mountain

Hi there. Comments have been closed for this item. Still have something to say? Contact us.