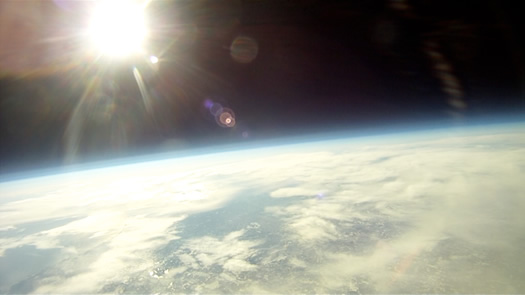 This is great: a group of RPI students sent a weather balloon to the edge of space -- almost 90,000 feet. The balloon was equipped with three HD cameras and the video is remarkable (a few versions are embedded after the jump).
The students are part of a club called "RPI Students for the Exploration and Development of Space" (RPI-SEDS) -- it was founded by Orian Breaux, who recently graduated with an undergrad degree in aeronautical engineering. They launched the balloon from the Class of '86 field on campus -- and it ultimately landed in Maine after reaching 89,777 feet (well into the stratosphere).
So, why? (Other than than the fact it's awesome.) Breaux explains in a blog post:
Let's face it: space isn't sexy anymore. The zeal for the cosmos that once pervaded the American public consciousness has gone flat, and we're not going to rediscover that passion through politicians or NASA administrators. It will reemerge through the efforts of entrepreneurs in the private space industry and through the legions of professionals and students inspired by their actions ...
Our first effort, the high-atmosphere balloon, is an innovative variation on this increasingly common project. The idea that regular students can realize grassroots space projects like this embodies new opportunities to inspire people unlike ever before. That is the central idea behind presenting the high-atmosphere in a 360-degree interactive medium.
Breaux's name might sound familiar -- he's one of the founders of the Swing Syndicate in Troy. As he told AOA last fall about his career plans: "I'm not losing focus on getting into the space industry. I've always had an entrepreneurial spirit. I want to be involved in the movement to privatize space flight. Maybe I'll start a dance studio on the moon -- go back to my roots."
There's a 360 degree panorama video embedded on RPI's site, as well as Breaux's site.
This is "flattened" version of the video:
And here's unedited video from just one of the cameras:
image: RPI Students for the Exploration and Development of Space/Orian Breaux
Hi there. Comments have been closed for this item. Still have something to say? Contact us.