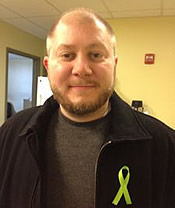 It's Monday, which means WEXT is running another My Exit show -- where the listeners get to pick their own playlists.
Here's this week's person...

Who?
Adam Kirkman -- I live in Delmar and work for CARES, Inc., a nonprofit agency that provides support to homeless shelters and housing programs. I am 34 and single and the proud father of a great teenage daughter. Besides My Exit, my only other radio experience was in college co-hosting the Magical Mystery Show with my best friend on Skidmore Radio (WSPN). We played Beatles and other classic rock early on Saturday mornings. I think we were probably the only people awake on the campus, but we had fun.
How would you describe your taste in music?
I listen to music all day at work, in my car, at the gym and when I am in the kitchen. While most of the stuff I included on the My Exit playlist could be classified under "indie," my tastes are more broad than that and include everything from folk to hip hop. I try to stay current on new bands and end up downloading something new every few days. I have found WEXT to be a great source for finding new music and am excited to have the opportunity to share some of my favorite songs on such a great station.

A few songs from Adam's My Exit show:

"Waltz #2" by Elliott Smith
This is one of my all-time favorite songs. I think that Elliot Smith is such a tragic character and this song really demonstrates that. The lyric "I'm never gonna know you now / but I'm gonna love you anyhow" was sad when I thought it was about a crush, but devastating when I read that the song was actually about his mother (I get along fine with my mother, by the way).

"Photobooth" by Death Cab for Cutie
A great song about a summer romance gone cold. While this is one of their older songs, I think that DCFC have stayed very consistent over the years and continue to put out good music even as they've grown more mainstream.
"I Don't Really Love You Anymore" by The Magnetic Fields
I am a big fan of clever songwriting and love what Stephin Merritt does with the Magnetic Fields. This song is off the i album (every song starts with the letter i) and is a sweet love song thinly disguised as a kiss off.

"Every Night My Teeth Are Falling Out" -- the Antlers
This is one of the newer songs I included on the playlist and is off the Antlers' Burst Apart album. It has a creepy-cool vibe to it that I really like.
"Walking the Dog" by Fun.
I am always happy when my musical tastes intersect with my daughter's. This is one of her favorites, so I had to put it on the playlist. We are going to see them in Clifton Park in April, which should be a really fun (ha!) show.
You can hear Adam's My Exit show tonight at 8 on 97.7 or at exit977.org.
Here's how to schedule your own My Exit show on WEXT.
Hi there. Comments have been closed for this item. Still have something to say? Contact us.