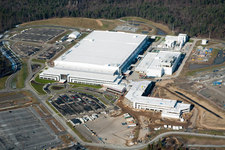 External validation: Forbes says the Albany-Schenectady metro area is #4 on the mag's "Best Cities for Jobs" list. Forbes cites the GE battery plant and the GlobalFoundries fab as reasons for the metro's ranking.
Those are good reasons. And it's reasonable to be generally optimistic about the Capital Region economy -- the unemployment rate has been relatively mild compared to the rest of the country, and the housing market didn't implode like it did in other metros. There's the aforementioned factories, and all the nanotech stuff.
But it's also worth noting some context: there are currently fewer employed people here than five years ago -- about 14,000 fewer, if you compare December 2007 to December 2011, according to the federal Bureau of Labor Statistics (xls). And in December 2011, there were about 30,000 unemployed people in the region, according to the NYS Department of Labor.
Forbes says it developed its list by ranking "the 100 largest U.S. metropolitan areas by a variety of statistics including unemployment rate, household income and projected job growth," while screening out "cities that were merely rebounding from the recession." (Sorry, Las Vegas.)
Here are the top five from Forbes' list:
1. Washington, DC
2. Des Moines, Iowa
3. Poughkeepsie/Newburgh, New York
4. Albany-Schenectady, New York
5. Madison, Wisconsin
photo: GlobalFoundries
Hi there. Comments have been closed for this item. Still have something to say? Contact us.