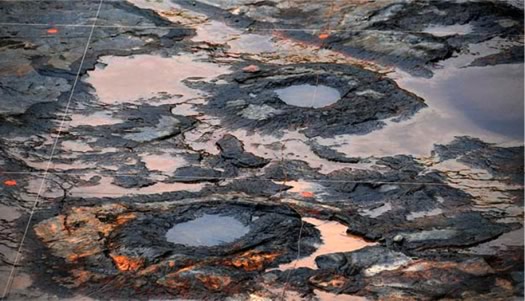 A group that includes researchers from the State Museum reported in Nature today that it's found evidence of the world's oldest forest floor in Schoharie County. And in this case old means really old -- almost 400 million years ago. The paper made the cover of Nature. [Nature] [NYS Museum]
The spot in Schoharie County -- Gilboa, specifically -- has been notable to paleobotanists for more than a century because of fossilized tree stumps that were found there. The construction of the New York City reservoir system in the 1920s helped uncover more fossils, including foliage imprints. The specimens became known as the "world's oldest trees." Scientists have continued to find other fossil remains that have helped them piece together what these ancient trees probably looked like. In 2007 this same research team -- which includes researchers from Binghamton University and Cardiff University in Wales, as well as the State Museum -- reported that it had found the crown of one of these trees. [Wikipedia] [Gilboa Museum] [Gilboa Museum] [National Geographic] [Nature]
This new discovery helps the researchers piece together what the whole scene looked like.
From the State Museum press release:
Based on the new research, the team now believes that the area probably enjoyed a wetland environment in a tropical climate. It was filled with large Eospermatopteris trees that resembled weedy, hollow, bamboo-like plants, with roots spreading out in all directions, allowing other plants to gain a foothold. Scrambling among these roots on the forest floor were aneurophytaleans, acting much like ferns do today, and possibly climbing into the forest canopy as vines. The lycopsids, although seemingly rare, may also have been very important in certain places although perhaps not yet as specialized inhabitants of swamps.
But what the research team believes is most important about this particular site is what it was doing to impact the rest of the planet. At the time the Gilboa forest began to emerge -- during the Middle Devonian period, about 385 million years ago - Earth experienced a dramatic drop in global atmospheric carbon dioxide levels and the associated cooling led ultimately to a period of glaciation.
"Trees probably changed everything," said [Binghamton University's William] Stein. "Not only did these emerging forests likely cause important changes in global patterns of sedimentation, but they may have triggered a major extinction in fossil record."
As it happens, the site is once again buried -- the researchers only got access to it for two weeks during repairs to the Gilboa Dam in 2010. [TU]
photo: "Surprisingly complex community discovered in the mid-Devonian fossil forest at Gilboa," Nature 483, 78-81 (01 March 2012) - William E. Stein, Christopher M. Berry, Linda VanAller Hernick & Frank Mannolini
cover image: Nature
Hi there. Comments have been closed for this item. Still have something to say? Contact us.