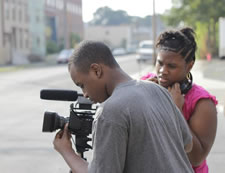 The Grand Street Arts' YouthFX filmmaking program is premiering its 2011 short films this Thursday at the Madison Theater. Among the films on the slate: a documentary about Tyler Rhodes, the Albany High student who was fatally stabbed in Hoffman Park last year. From a press release:
Tyler's death sent shockwaves through the entire community at Albany High School, where he was a well-known student and athlete. This past summer many Youth FX participants, many who knew Tyler personally, brought up the idea of doing a documentary about his story and raising awareness about the issue of teen violence in Albany. Other films will include fiction shorts about lost relationships, the precarious allure of money, a documentary about local artists and a hilarious mockumentary about competitive texting. All the projects were conceived of and produced by the teen participants of Youth FX.
YouthFX is a summer program for teens that involves "the creative and technical aspects of digital filmmaking and doing hands on workshops to practice their skills." Liz met some of the teens involved last year and came away very impressed.
The screening at the Madison starts at 7 pm Thursday. Tickets are $7 (adults) and $5 (kids under 12).
photo via YouthFX Facebook
Hi there. Comments have been closed for this item. Still have something to say? Contact us.