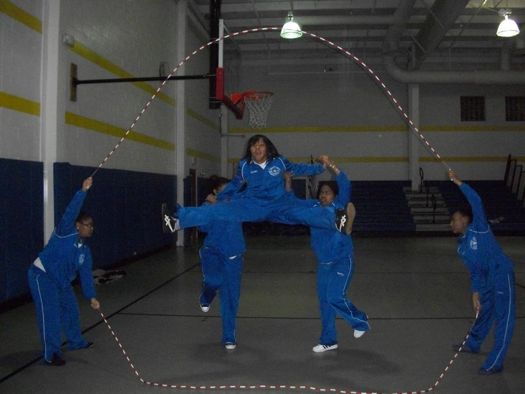 It's true: Albany has a double dutch team. And it's pretty good.
Nanny's Double Dutch League has been practicing at the Arbor Hill Community Center and competing in venues around the country for the last five years.
Later this month they'll be competing and attending workshops with 168 double dutch teams from Japan, Belgium, North Korea, Singapore and the US at the World Tournament in Tokyo.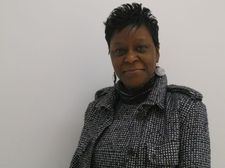 Growing up in Manhattan, Natalie Jay-Short -- the coach for Albany's double dutch team -- jumped competitively for her elementary and middle school teams. But when she came to Albany for college, she noticed something was missing. "Driving around the Capital Region for years, the one thing I never saw was kids playing double dutch. And I'd just keep talking out loud, saying 'I want to start a double dutch league, I want to start a double dutch league.'"
Her own kids went through school in the Capital Region and participated in all kinds of sports through high school, but never jumped.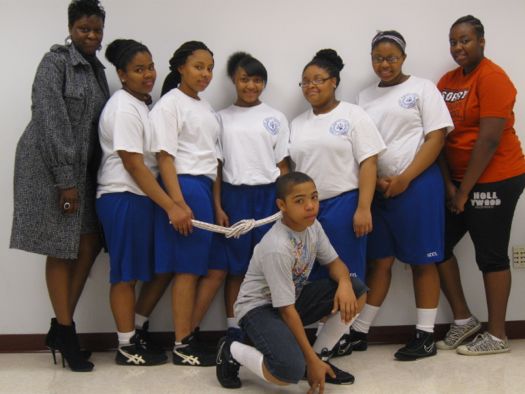 Jay-Short works for the SUNY Research Foundation and about six years ago, when some funds opened up for community outreach, she was offered an opportunity to start her team. "They bought my ropes and rule books, and I hustled to schools all over the area to practice and teach them."
Jay-Short named the team Nanny's Double Dutch League, in honor of the grandmother who took her, along with her three brothers and a cousin, out of foster care in NYC and raised them. The team now has members from schools all over the Albany area, but they don't have to be from Albany to join. "I'll take anyone who wants to jump and can get to our practices Monday through Thursday from 5 to 6:30 at the Arbor Hill Community Center." The current team is mostly made up of girls, but there's one boy from Hackett Middle School.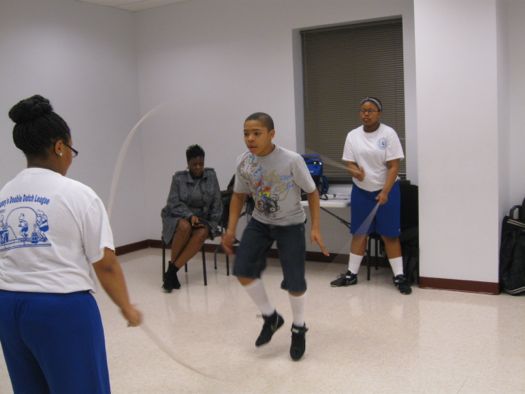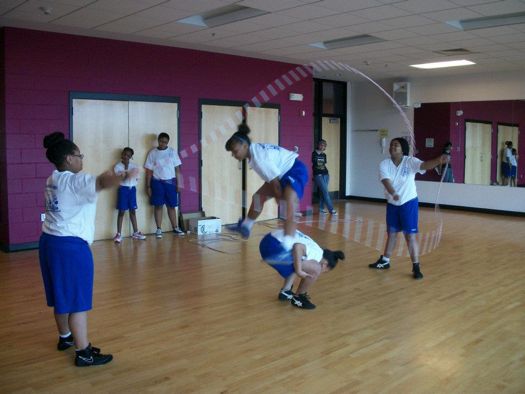 "Double dutch teaches the kids focus and competitiveness," says Jay-Short, "but it also teaches them sportsman-like conduct and how to work with each other, using words to solve conflict and maintaining respect. So we teach a lot."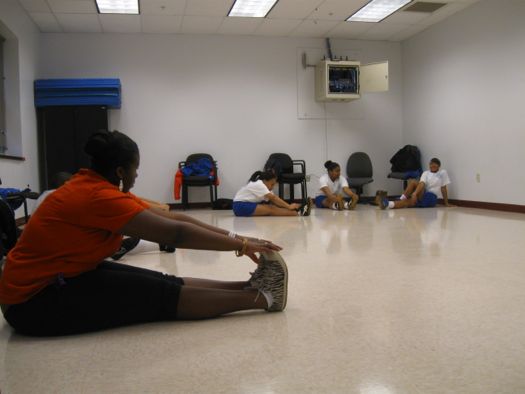 The team, she says, is like a family, going to movies and doing community service together in addition to practices. But she says the kids are pretty serious about their competitions. "Before they even start sometimes they'll tell me 'my chest is pounding, my palms are sweaty.' Sometimes they don't want the others to talk to them because they're so focused."
Here's a look at the team in action at a recent fundraiser. (The show starts around the 8 minute mark -- things get really good after the 9:30 mark.)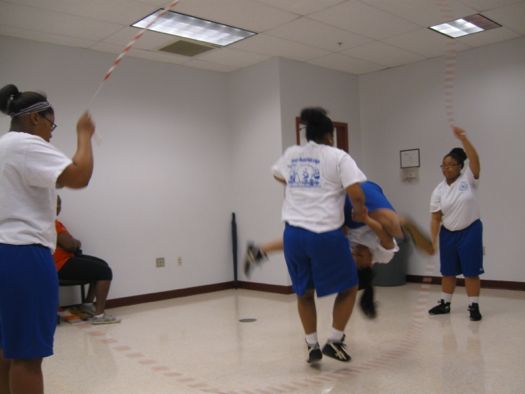 "Double dutch is a sport," says Jay-Short. "People are working to have it included in the Olympics."
Double dutch teams compete on three levels. The first is kind of like choreography -- jumpers have to complete certain steps within an allotted time period. "If you don't complete them all you lose points. If you do complete them, you gain points." Next is speed -- jumping as fast as you can for two minutes without making mistakes. "A floor judge counts every time the jumpers left foot touches the ground." The third part of the competition involves freestyle tricks, where competitors try to wow the judges with stunts.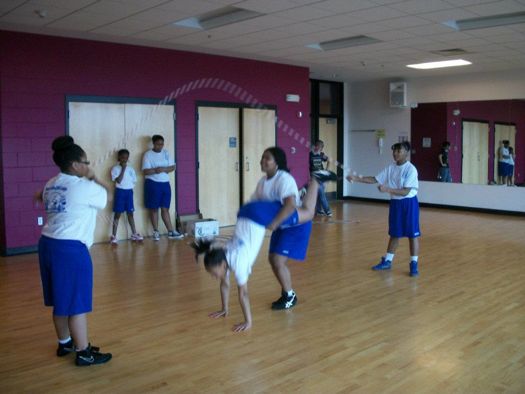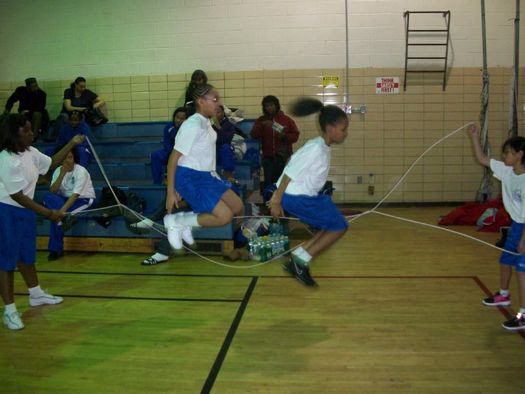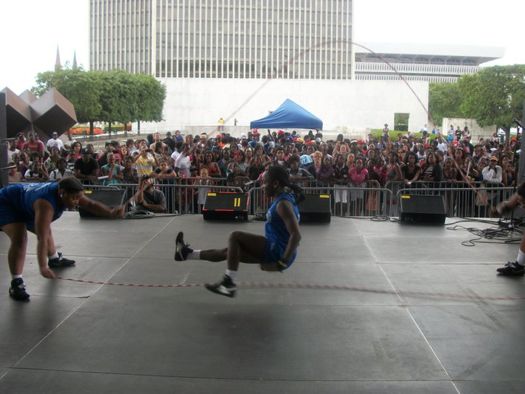 In June, while competing at the US World Tournament in Georgia, Jay-Short and her team met a group from Tokyo and were invited to join their world tournament later this month. They've traveled to competitions and workshops around the US, but this is their first opportunity to travel abroad.
The team has been training and raising money for months, and in a couple of weeks, five young women from the Capital Region will be one of three US teams to compete and workshop with double dutch teams from Japan, North Korea and Belgium at the World Double Dutch Tournament in Tokyo.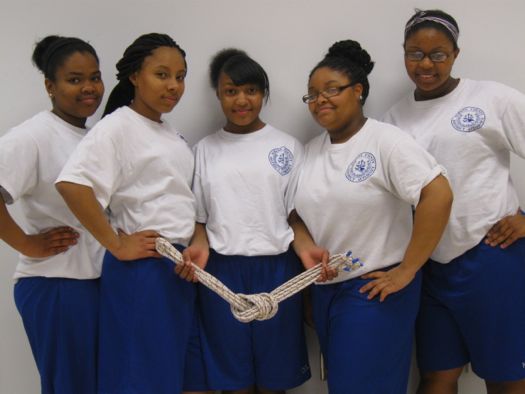 They've raised $11,000 for their plane fare, but Jay-Short says they still need about $6,000 to cover hotels, meals, fees and other expenses. They're accepting donations online. They're also holding a fundraiser this Friday (March 9) at the Victory Dream Center at 25 Warren Street in Albany at which they'll be selling lunches (11:30 am-2 pm, $12) and dinners (5-8 pm, $15).
Hi there. Comments have been closed for this item. Still have something to say? Contact us.