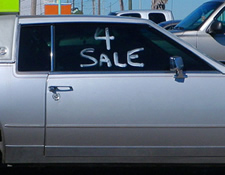 Mike emails with an unusual question:
Is there a good place in the area to have car window tint *removed*? I bought a car with tinted windows a few months ago from someone in Brooklyn. I was recently informed on the side of the Northway by a friendly State Trooper that the tint is much darker than the law allows. I never particularly liked it, anyway, but I'm not sure either a) how to remove it myself or b) where in the area is a good place to have it removed.
Suggestions on either would be appreciated.
Fun fact: State Police actually have an instrument they use to measure window tint. Windows that allow less than 70 percent of outside light to pass through are illegal.
We're guessing this is a fact that Mike would have rather not learned first hand. And we do hope he can avoid any more roadside discussions with the State Police.
So, have a suggestion for Mike? Please share!
photo: Flickr user dno1967b
Hi there. Comments have been closed for this item. Still have something to say? Contact us.