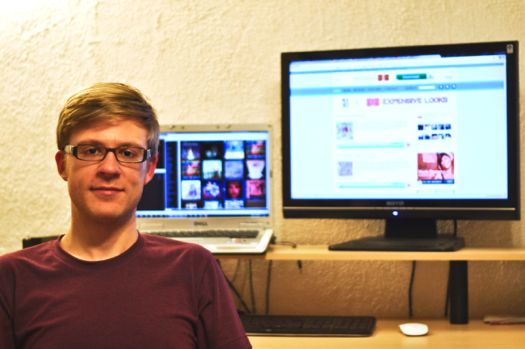 There are no musicians in Derek Duoba's family. None.
What there is: a lot of music enthusiasm.
"We were always talking about music in my family. We all had opinions."
In 2008, Duoba quit Union College's political science program in his junior year and started putting his music opinions to work. He took a job at an online software development firm where, as a side project, he built the online music magazine Inyourspeakers. "We really looked up to Pitchfork as the new Rolling Stone of our generation," says Duoba, "and we tried to achieve what they had going."
The problem -- there already was a Pitchfork, with a big head start.
He needed something different.
A few years later Duoba and his team of about 30 volunteer writers have reorganized In Your Speakers. Duoba says the site is now putting more focus on bands from the Capital Region and Western Massachusetts -- and producing a string of live shows in the area.
IYS magazine
These days, Duoba says, he no longer feels the need to be another Pitchfork. "We want to help build a community around the music that we cover." What kind of music is that? Duoba says IYS covers local and national music -- mostly indie bands -- that fall within a certain sound. He says the IYS sound is still developing, but, "If you were to view bands like Pavement on one side of the spectrum and acts such as Daft Punk on the other (with Radiohead securely in the middle of said spectrum), our sound would sit slightly to the right of Radiohead." He hopes IYS can be a filter for music consumers in a world of music overload.
IYS shows
While the main focus is the music magazine, Duoba recently rolled out a new concert production arm of the business. "The shows are just another way to help our audience experience the music." He says the music promotion effort and music magazine function side by side, and at times, he's had to give a bad album review to a band he's brought in for a show. "Our primary obligation is still to the readers and music consumers" says Duoba.
IYS has held about a half dozen shows in the area, combining NYC and Western Mass acts with local talents. It also helped organize the Wham City comedy tour stop in Troy last November.
The next IYS local show is this Friday night, March 9th, at 51 3rd in Troy. It's pulling together Brooklyn musicians Expensive Looks and Starscream with RPI's Vulpixic.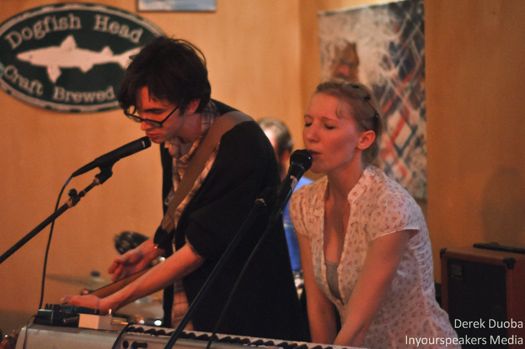 Breakfast in Fur IYS show
Capital Region audiences
Duoba says concert promoters and other people in the community warned him that it's tough to bring out Capital Region audiences, but he says IYS hasn't lost money on a show yet. It hasn't sold out a show, either. He admits it's easier to fill seats at shows near UMass-Amherst, where he's now finishing up a degree in computer science. Part of the challenge in the Capital Region, he says, is the a lack of suitable venues (he cites the closing of Revolution Hall) and the distance between geographic areas. Most of the In Your Speakers shows have been held in Troy, at venues like The Daily Grind, 51 3rd and Ground Zero. "For students, especially, a matter of driving from Skidmore to Troy can be a problem, so we're working with schools on ferrying students to shows." Students make up a big part of the In Your Speakers crowd, but Duoba says they're also attracting a lot of young professionals.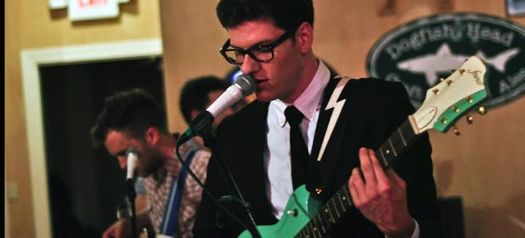 Conveyor and Friends IYS show
He says he's also been reaching out to what he calls "disparate groups" of music fans in the area, introducing people to each other and trying to help them work together to create more shows and bring in the kind of music they want, "So the Capital Region will financially be able to play host to all the bands that people in these various communities want to see but maybe couldn't afford to bring out on their own."
And don't hit him with that old argument that there are no good shows in the Capital Region. "That's just not true. People do not give credit to some of the bands that this area has produced and is producing."
One of the local bands he's high on right now is Alta Mira. They're appearing in an IYS show on April 12. "Their new record is just incredibly good." He's also a big fan of Sgt Dunbar, The Parlor, and the Saratoga-based band Bailiwick. Now that IYS is working on bringing shows out to Western Mass, Duoba says he'd like to promote some of the Capital Region's music there.
Duoba says this area is a good place to start promoting shows, in part because it's not over saturated with the sort of events that IYS wants to do. And he's not trying to recreate the Brooklyn or Western Mass music scene in the Capital Region. "I think it would be presumptuous for us to assume that it will go in the same direction that Brooklyn's music scene has gone. There's a lot of good indie bands and artists in this area. We'd like to see this area have more growth and give it more limelight throughout the US, but what it will develop into is tough to say."
photos courtesy of Derek Duoba
Hi there. Comments have been closed for this item. Still have something to say? Contact us.