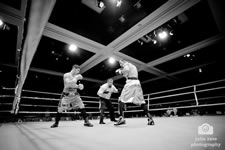 There's a professional boxing at the Empire State Plaza Convention Center this Saturday night -- which struck us as kind of unusual because... it's the Empire State Plaza Convention Center. The only people who usually trade jabs there are politicians and lobbyists.
But it turns out there's a history of boxing matches at the ESP. There was a string of bouts under the Egg during the 1980s. And there was a bout there last year -- the first in 21 years. [Pugnacious Promotions] [TU]
Mike Tyson
One of the bouts back in the day included Mike Tyson, who at the time was training in Catskill. In 1986 Tyson entered the bout undefeated with a 15-0 record -- and he faced a fighter named Dave Jaco, who had picked up boxing as a hobby following a divorce, and stuck with it because of the possibility of winning money. [AP 1997] [Gazette archive]
You can probably guess how that turned out: Tyson won after knocking down Jaco three times a little more than 2 minutes into the first round. Afterward, Jaco asked reporters: "Anybody see that truck?" [Gazette archive]
Saturday
The card for Saturday night's events at the ESP includes 8 bouts. The first bout is at 6 pm. Tickets start at $40.
By the way: If there's going to be boxing at the ESP, it would seem kind of hard for politicians to keep pushing the state ban against MMA.
photo: Julia Zave / Ares Boxing