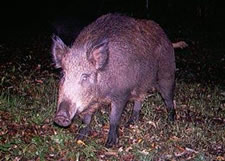 Interesting story in the New York Times this weekend about a population of feral pigs in the Champlain Valley, about 150 miles north of Albany. DEC officials are worried the population will permanently establish itself, spread, and threaten farms and Adirondack habitats:
Perhaps most worrisome is their reputation as eating machines: the pigs devour ground-nesting birds and reptiles, fawns and domestic livestock, native vegetation and crops. Feral pigs have already proliferated in parts of western New York. But state officials are drawing a line in the topsoil, so to speak, determined to protect both the agrarian economy and the fragile ecosystem from the nascent herd -- or "sounder" in swine-speak -- in the town of Peru.
"There's a real sense of urgency," said Ed Reed, a wildlife biologist for the state's Department of Environmental Conservation. "Once the pigs get established, they are very difficult to eradicate completely."
And what are they using to lure the pigs into traps: Jello-laced donuts.
The DEC says "people with a small game license may shoot and keep feral swine at any time and in any number." The resulting pork is said to be rather tasty -- although in some cases apparently there isn't enough sage to cover up the stink.
Feral pig populations are widespread in the South and California -- causing so many problems, in such great numbers, that as an official remarked: "With over 2 million hogs in Texas, we're not going to barbecue our way out of this problem." The animals reportedly cause $400 million in damage there each year and people have resorted to shooting them from helicopters.
photo: NYS DEC
Hi there. Comments have been closed for this item. Still have something to say? Contact us.