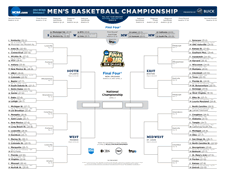 We figured it'd be fun to set up an NCAA tournament pool for AOA people. So we did.
The pool is set up on Yahoo. This link should take you to the registration. But if not, here's the info:
Group ID#: 147896
Password: greatdanessaints
If you already have a bracket set up at Yahoo, you should be able to add it to the AOA pool with just a few clicks.
To make things (only somewhat) more interesting, we'll give the winner of the pool a $25 gift certificate to the Recovery Room.
The deadline to set your bracket is 12:15 pm on Thursday. (The new "first four games" -- or whatever they're called -- aren't included. Thankfully.) Good luck.
'Cuse: Syracuse is the #1 seed in the East bracket. The Orange play UNC-Asheville Thursday at 3:10 pm. The game will be on TruTV. You can also watch it online.
Hi there. Comments have been closed for this item. Still have something to say? Contact us.