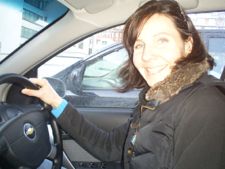 It's Monday, which means WEXT is running another My Exit show -- where the listeners get to pick their own playlists.
Here's this week's person...
Who?
My name is Hannah Barry. I am a social worker with a couple of side jobs (spin instructor, ski instructor) that help keep me doing what I love. I moved to the Albany area 5 years ago from New Mexico.
How would you desicribe your taste in music?
My music collection has a lot of rock including classic (Beatles, Jimi Hendrix, Led Zeppelin, Crosby Stills & Nash, Pink Floyd) and alternative/indie favorites (Black Keys, Arcade Fire, Radiohead, Iron & Wine, Band of Horses). I also like some new wave & electronic music (dubstep, downtempo, etc).
A few songs from Hannah's show:
"Angel in the Snow" by Elliott Smith
I just think this is a beautiful little song, representing the best of what Elliott had to offer-spare and with easily accessible emotion.
"Hard Row" by The Black Keys
I really appreciate the no-nonsense, bluesy approach the Black Keys have. This song represents their raw, down & dirty sound that keeps me listening.
"Cosmic Love" by Florence & the Machine
One of my favorites of hers, I like the rhythm and her trademark intensity- her songs sound fresh to me.
"Run Thru" by My Morning Jacket
I love this album (It Still Moves) and found myself listening to this song repeatedly-it draws me in with the guitar, changes tempo several times and dramatically builds to a guitar solo that gets me every time.
"Paradise Circus" by Massive Attack
Hope Sandoval is the perfect vocalist for this song, giving it a compelling atmospheric quality.
You can hear Hannah's's My Exit show tonight at 8 on 97.7 or at exit977.org.
Here's how to schedule your own My Exit show on WEXT.

Hi there. Comments have been closed for this item. Still have something to say? Contact us.