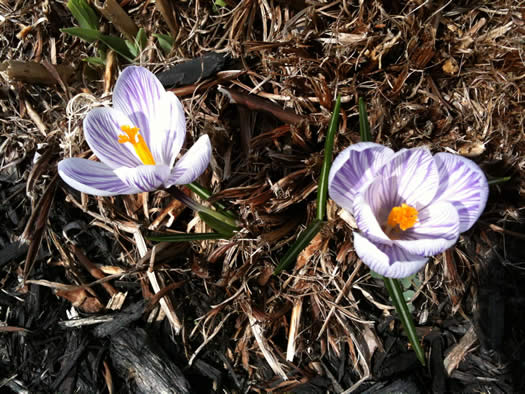 It feels so much like May we keep having to remind ourselves that it's still only March.
And we're not the only ones who are confused. Outside the downtown office the tulips are already starting to sprout and trees are beginning to bud.
We're happy to have ditched our winter coats and we'll take any excuse to break out the flip-flops, but we're wondering what all this unseasonably warm weather will mean for Albany's tulips -- and other the flowers and plants.
So, just bonus springtime for gardeners -- or (cue ominous music)... cause for crocus concern?

There's a little cause for concern, says gardening expert Larry Sombke. "It's really quite early for tulips and daffodils and other bulbs. If they come up and form their blooms and then we have a heavy snow or cold snap, the blooms themselves will be damaged." But if it says warm, Sombke says it's probably not that much of a problem -- we'll just have a nice early spring.
And there's really not much we can do about that. "There's really no stopping it. The earth is warming up. I suppose it's feasible if you put big blocks of ice on the ground but we're looking at temperatures in the 70s most of this week, so it would be hard. I've got crocuses in bloom in my yard already and I can see my tulips and daffodils poking out of the ground."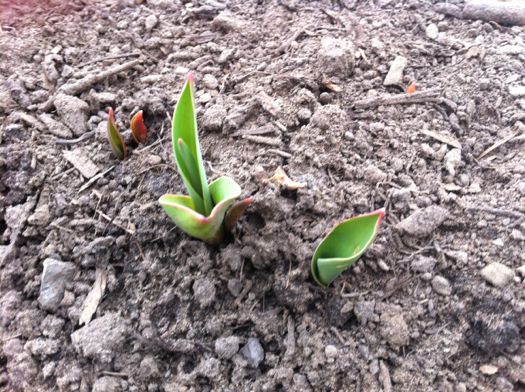 Tulips poking through the ground recently in Washington Park.
Sombke says as long as it stays seasonably cool-- in the 50s or 60s -- local flowers and plants should be OK. "If you have shrubs or perennials outside, they'll survive. I wouldn't put out any other perennials right now, though. There's no sense shocking them."
But we live in Upstate New York, where it's been known to snow as late as May.
"If I were a fruit farmer I'd be concerned. A little bit of snow isn't necessarily so bad but if it took a sudden cold snap with temps around 10 degrees could be very bad for them."
OK, so if we've got an early spring, how can we use it to our advantage?
Sombke says you can start planting some early vegetables right away. "Arugula, lettuces, spinach, radishes and peas don't mind a little bit of snow or cold. I'd wait on the tomatoes and peppers and things like that. And as far as flowers go, I'd wait on everything except pansies and violas. They do OK in the cold."
What about the tulips?
"Don't worry if your tulips come up early," says Sombke. "They might get damaged a little but they'll come back next year." As for the Tulip Festival, Sombke says, "I know the city gardener tries to have a mix of early, mid and late blooming tulips, so chances are there will be tulips at the festival."
Larry Sombke is a garden and food writer and the creator of Larry's Southwestern Sauces.
Hi there. Comments have been closed for this item. Still have something to say? Contact us.