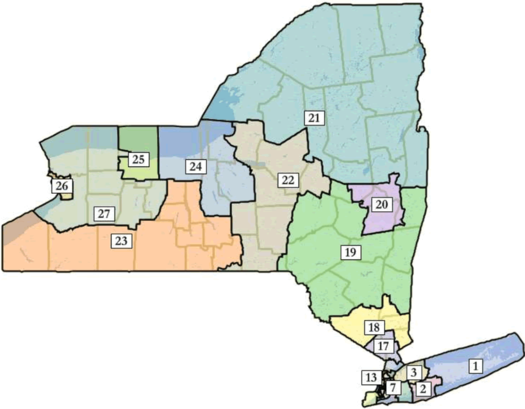 Here's the map of new Congressional districts for New York State approved by a panel of federal judges (large format). The state is down two districts, from 29 to 27, after the most recent census.
Under the new lines, the Capital Region is now spread over three districts: NY 19 (currently Chris Gibson), NY 20 (currently Paul Tonko), and NY 21 (currently Bill Owens). There's some significant reorganization, especially in the core of the area -- the cities of Albany, Saratoga Springs, Schenectady, and Troy are now in the same district (they had been split between districts represented by Tonko and Gibson).
The New York Times has posted a very good interactive map comparing the new and old districts.
All the new maps from the federal judges are embedded after the jump.
Hi there. Comments have been closed for this item. Still have something to say? Contact us.