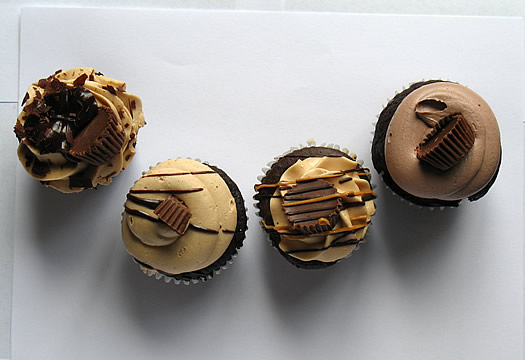 By Daniel B.
If you love cupcakes, the chances are that you have a favorite bakery in the Capital Region from which to get them. There are a staggering number of places that make precious little (and not so little) versions of the form. Some of these are classic Italian bakeries and local institutions. Others are more recent additions that have responded to the cupcake craze that's been sweeping the nation for more than a decade.

The competitive landscape here among specialty cupcake bakeries is pretty fierce. So in an attempt to try and settle some of the feuding, last Saturday 20 invited readers of the FUSSYlittleBLOG met at the Hilton Garden Inn Albany Airport to blindly taste the wares of four of the region's most popular cupcakeries.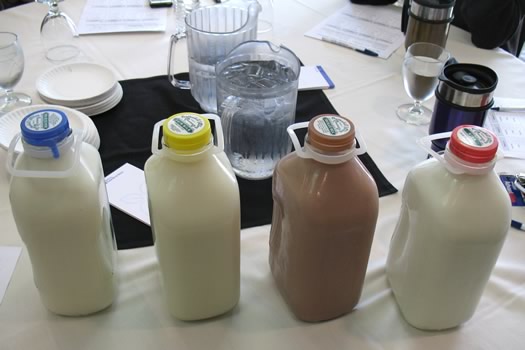 The scope of the tasting was fairly limited. We were not looking to find out who has the best cupcake in the region. Rather, the goal was simply to determine between Coccadotts, Bettie's, Sweet Temptations, and Fluffalicious, which cupcake would prevail when stripped of its well-polished branding.
Step one was to get down to basics.
Round One

Fluffalicious, Sweet Temptations, Bettie's, Coccadotts
For Round One we ordered a dozen cupcakes with yellow cake and vanilla buttercream. In this round, and all subsequent rounds, the cupcakes were evaluated on the criteria of topping, cake, and overall execution. Each was scored on a five-point scale. With 20 participating judges (from all around the Capital Region) each criterion could be awarded a maximum of 100 points. The three scores for each bakery were then averaged to determine its final score for the round.
Without all the clever decorations, fillings, and fanciful toppings, the judges were able to assess the overall quality of each cupcake's building blocks: the cake and the icing. Yellow cake and vanilla buttercream may be simple, but they are not easy to do well.
Each participant was served one half of every cupcake, and a whole cupcake was made available for inspection. This way everyone could appreciate the visual appeal of the cupcake, as it would appear on the bakery's shelf.
This was a blind tasting, meaning that each participant was delivered four plates labeled A, B, C, and D for each round. The key was only revealed after every score sheet was completed and submitted for tabulation.
Round One results were striking.


  
Fluffalicious took an early and decisive lead in all categories. One panelist said its cupcake "tastes like the richest pound cake with an airy and flavorful frosting." Those who preferred Coccadotts credited their "great cake flavor" and "very moist cake" which was "so soft that it fell apart when I ate it."
Sweet Temptations was criticized for their buttercream being both "too sweet" and having "a weird aftertaste." Bettie's was widely faulted for providing a "drier cake" and "crisp"/"crunchy" buttercream, even though it had a "very strong butter flavor."
Round Two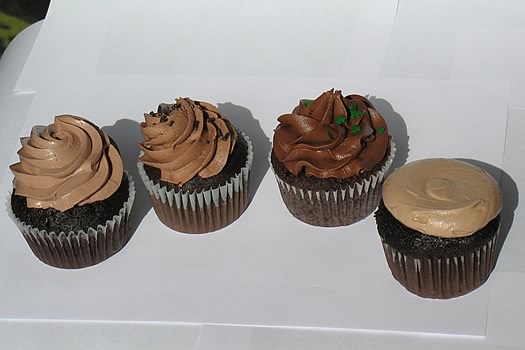 Fluffalicious, Sweet Temptations, Bettie's, Coccadotts
Round Two was all about chocolate.
We ordered a dozen chocolate cupcakes with chocolate buttercream. Again, this round was dedicated to tasting how well each bakery could execute the basics. Chocolate is more challenging than one might think.
The judges were less than thrilled, and returned lower scores across the board, but Fluffalicious maintained its lead.


 
Fluffalicious was once again noted for its flavor with comments like "very cocoa-y frosting" and "the only frosting that tasted chocolatey." One fan of the Coccadotts sample gave it a perfect score and said it was both "a perfect blend and understated"
Criticism in this round was harsh. One taster observed "no one used good quality chocolate, and several featured the chemically taste of artificial flavors." And another noted the winner "was the lesser of the evils. It was the least bad of the four."
There were a few who liked the texture of Bettie's fudgier buttercream. But the same admirers noted that their cake in this round was also tough and dry, as in round one. One person noted a "good butter flavor" in Sweet Temptation's buttercream. However the bakery's smaller cupcakes were widely panned for being drier, with overly sweet frosting, and without a discernable chocolate flavor.
Round Three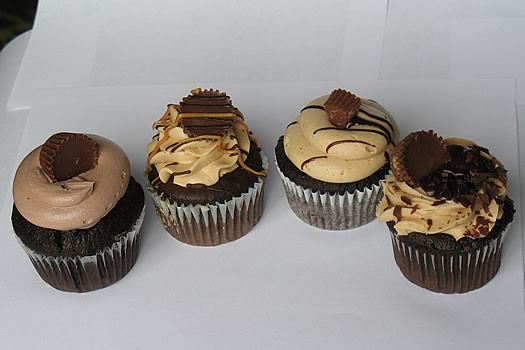 Fluffalicious, Sweet Temptations, Bettie's, Coccadotts
But here's the thing. Most people aren't going to specialty cupcake bakeries for the basics. They are going for the fanciful flavors, the unique creations, the clever concoctions and the pretty toppings.
And that brings us to Round Three.
Each of the four bakeries was called and asked about their most popular flavors. Remarkably, only one flavor was mentioned by every bakery. And it wasn't red velvet. It was peanut butter cup.
So, we ordered a dozen peanut butter cup cupcakes from each of the bakeries. Fans of Bettie's will be relieved to read what happens next.

 
 
The great, big, pink, double-decker-bus owning cupcakery had a "topping" score that beat Fluffalicious. And they were the only bakery to pull off this feat all day.
Fluffalicious had a different interpretation of this cupcake than the rest of the pack. The majority of bakeries see a peanut butter cup cupcake as a chocolate cake, topped with peanut butter buttercream and a piece of peanut butter cup candy. Fluffalicious tries to get closer to the peanut butter candy by surrounding a peanut butter buttercream center with chocolate -- and that means both chocolate cake and chocolate buttercream.
Given the judges opinions from the chocolate round, this resulted in Fluffalicious's lowest score of the day. Still, they narrowly managed a win in almost all of the categories. One fan of Fluffalicious in the other rounds went on record that this was the bakery's worst cupcake of the day.
In regards to Bettie's strengths and weaknesses, one participant wrote that Bettie's peanut butter cup cupcake "was almost perfect, it's a shame the cake was so dry and dense." Although those who preferred it said this cupcake "is the best tasted as a whole, more than the sum of its parts."
One participant who preferred the Coccadotts entry said the "cake is solid and topping extras (fudge) were good." Another said it "had a good balance of peanut butter and chocolate."
Sweet Temptations also had their best round in the specialty category. One taster thought their, "sweet frosting by itself is good" and that the "cake by itself is good, although weak on actual chocolate taste." However the same taster concluded that the "combo is too unbalanced."
Overall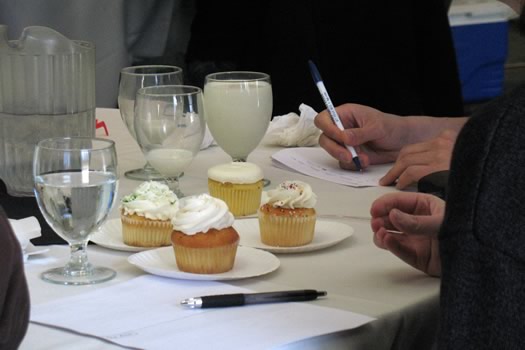 Coccadotts may have been on television, and Bettie's may have a big pink bus. But it's Fluffalicious -- the relative newcomer with its pink and white cupcake wagon and small retail store tucked away between the Deli Warehouse and Old Brick in Colonie -- that has it where it counts. This bakery with the silly name and a mousse-like whipped buttercream had the highest overall scores in every round.
Coccadotts came in a very respectable second place.
Bettie's and Sweet Temptations were largely tied until Bettie's made a sizable leap into third place on the strength of their specialty cupcake.
Congratulations to Fluffalicious. This honor comes with few bragging rights, though, as this wasn't a comprehensive survey of Capital Region cupcakes. But perhaps it will provide some evidence in the ongoing back-and-forth among the local cupcakes shops.
And please don't make us go through this process a second time. I'm now hearing reports from those brave souls who donated their bodies and their time to this effort, and they may never eat another cupcake for as long as they live. (Croissants are better anyway.)
Update:
There's follow-up and more discussion on the FUSSYlittleBLOG.
More recaps and discussion: KB | Wendy | Valerae | Jerry | Sandra
Daniel B. is the proprietor of the FUSSYlittleBLOG.
Bettie's has advertised on AOA in the past.
Hi there. Comments have been closed for this item. Still have something to say? Contact us.