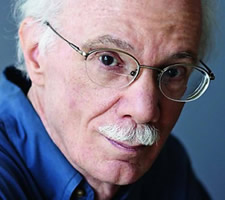 Skidmore professor Steven Millhauser has won the Story Prize for We Others, his collection of short stories published last year.
The prize is an annual $20,000 cash award that recognizes outstanding collections of short stories. The other two finalists were Don DeLillo and Edith Pearlman. Not bad company to be in. He's also a finalist -- again for We Others -- for the PEN/Faulkner award.
Millhauser's short stories often appear in The New Yorker -- and many of those stories are in We Others. A few of them are available to read for free on the New Yorker's website:
Millhauser won the Pulitzer Prize in 1997 for his novel Martin Dressler: The Tale of an American Dreamer..
photo: Michael Lionstar