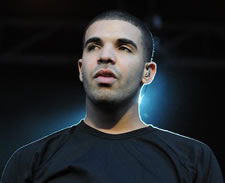 Hip hop star Drake is playing SPAC June 14. Tickets go on sale this Friday (March 30) -- they start at $35.75 (lawn) and $55.75 (inside).
Drake has been tearing it up the last few years, with a couple of platinum albums that have included collaborations with Jay-Z, Alicia Keys, and Lil Wayne. He's now a huge star, both in and out of the hip hop world (with that has followed coverage in places like NYT proclaiming that he's pushing rap "toward the gothic").
He's also -- gasp -- Canadian. And started out as a TV actor. On Degrassi: The Next Generation.
Updated price info because of a typo in the original press release announcing the show.
photo: Brennan Schnell via Wikipedia