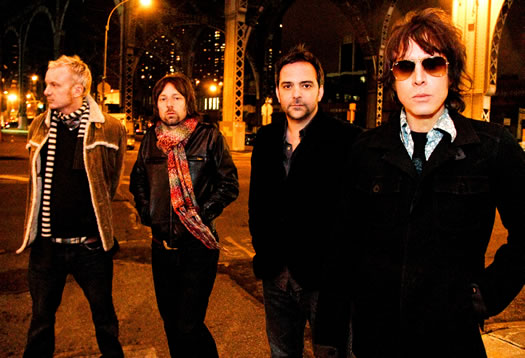 The lineup for this year's Tulip Festival was announced today -- Fountains of Wayne is the headliner. And some tribute bands.
Tulip Fest is May 12 and 13 this year (Mother's Day weekend, as always).
The full lineup -- with a schedule of events -- is after the jump.
The prohibition on bringing in alcoholic beverages is back for this year (see bottom of press release).
Saturday
Main stage
1 pm: Today the Moon, Tomorrow the Sun
2:30 pm: Walk the Moon
4 pm: Fountains of Wayne

Lakehouse stage
1 pm: The LateShift
2:15 pm: Barkeater
3:30 pm: The City Never Sleeps
4:45 pm: Conehead Buddha
Sunday
Main stage
1:30 pm: Higher Ground: A Tribute to Stevie Wonder
3:30 pm: Mr. Dynamite: The Explosive James Brown Show
Lakehouse stage
1 pm: The Jenson Rhodes Band
2:15 pm: John Brodeur
3:30 pm: Milestone
4:45 pm: Chronicles
photo: Violeta Alvarez
Press release and full schedule
Press release: The 64th Annual Albany Tulip Festival
May 12 & 13, 2012
Washington Park, Albany NY
11am-6pm
Albany, New York - Mayor Jerry Jennings and the City of Albany are pleased to announce the full schedule of events planned for the 64th Annual Albany Tulip Festival.
The Tulip Festival is Albany's signature spring event, featuring annual traditions rooted in Albany's rich heritage, over one hundred artisans selling their handmade crafts, a fine arts show, delicious food, the KidZone family fun destination, two stages of world-class live entertainment...and, of course, thousands of tulips! As always, this event is free and open to the public!
For more information, call (518) 434-2032, visit www.albanyevents.org or follow @albanyNYevents on Facebook & Twitter.
FULL TULIP FESTIVAL SCHEDULE OF EVENTS:
Tulip Festival Spring Traditions:
Monday, May 7
Tulip Tour in Washington Park • 1:00pm
Learn about the planting of more than 100,000 tulips for Albany's Tulip Festival in this guided walking tour with City Gardener Jessica Morgan. Tour begins at the Moses Statue. $5. Reservations are requested; call the Albany Visitors Center at (518) 434-0405.
Friday, May 11
Carillon Concert • 11:30am - 12:00pm
Professional carillonneur Dr. Charles Semowich kicks off the 64th Annual Albany Tulip Festival with a special musical program on City Hall's historic 49-bell carillon.
Street Scrubbing • 12:00pm
State & Lodge Streets
The traditional Dutch practice of scrubbing the streets before a big event features a Mayoral Proclamation, the City of Albany Pipe Band, the Dutch Settlers Society and the 2012 Tulip Queen Finalists. Hosted by Joe Condon of B95.5 FM.
Tulip Festival Luncheon • 12:30pm
Hotel Albany (formerly the Crowne Plaza, State & Lodge Streets)
A farewell to 2011 Tulip Queen Karen Colehour and her Court. Proceeds benefit the Albany Tulip Fund at the Community Foundation. Tickets are required; email tulipluncheon@gmail.com or call (518) 275-6813 to purchase.
Saturday, May 12
Tulip Queen Coronation
Amphitheatre Stage at Washington Park Lakehouse
The Mendelssohn Club • 11:00 - 11:30am
The Mendelssohn Club performs a full, international range of male chorus literature.
Sweet Adelines • 11:30am-12:00pm
A diverse, award-winning female chorale ensemble based in the Capital Region.
Tulip Queen Procession • 11:45am
Formal Tulip Beds by Moses Statue
2011 Tulip Queen Karen Colehour, Mayor Jerry Jennings, the Dutch Settlers Society and the City of Albany Pipe Band lead the five 2012 Tulip Queen finalists to the amphitheatre stage.
Tulip Queen Coronation • noon
Amp Stage
Mayor Jennings crowns the 64th Annual Albany Tulip Queen in this traditional ceremony.
Royal Tulip Ball• 6:30pm
Wolferts Roost Country Club
An elegant evening of dining and dancing to honor the new Tulip Queen and Court. Proceeds benefit the Albany Police and Fire Foundation. Tickets are required; contact Capital Affairs at (518) 388-9240 to purchase.
---

Tulip Festival Performance Schedule:

SATURDAY, MAY 12
Saturday Main Stage
Washington Park Parade Grounds
Sponsored by 102.7 WEQX
Today the Moon, Tomorrow the Sun • 1:00pm - 2:00pm
This indie-electro-rock outfit might call Atlanta their hometown, but their real home is in the van as they play hundreds of shows a year across America. Their loyal fans continue to spread the word about the noisy, dancy, loud, sincere, sweaty, loveable, hardworking sounds of Today The Moon, Tomorrow The Sun.
Walk the Moon • 2:30pm - 3:30pm
Walk the Moon combine impressive musicianship with what the New York Post deems an "unrestrainable love for performing." It is a truly contagious mix that's earned the Ohio dance-rock quartet a rapidly growing fanbase and high-profile spots on stages at South by Southwest, in the pages of SPIN Magazine and onscreen on Last Call with Carson Daly.
Fountains of Wayne • 4:00pm - 5:30pm
The acclaimed, gold-certified power pop quartet Fountains of Wayne has received steady critical accolades since their inception in 1996. "Dean of American Rock Critics" Robert Christgau has called the Grammy-nominated New York rockers "lyric poets" and "true art heroes," Rolling Stone names them "rock's sharpest storytellers," and according to NPR's Ken Tucker, they're "the finest contemporary pop-rock band in America." Fountains of Wayne's latest album, Sky Full of Holes, showcases the band's famously witty lyrics and infectious melodies over tunes that range from intimate acoustic ballads to high-energy rock and roll.
---
Saturday Amp Stage
Washington Park Lakehouse Amphitheater
Sponsored by Exit 97.7

The LateShift • 1:00pm - 1:45pm
A fresh, original alternative band out of Albany, The LateShift specializes in soulful, riff-driven rock bursting with energy, melody and positivity.
Barkeater • 2:15pm - 3:00pm
The creation of lifelong chums Hank Banks and Rusty Jones, North Country duo Barkeater presents raw, untethered, unruly rock n roll.
The City Never Sleeps • 3:30pm - 4:15pm
Guerilla Magazine calls Albany five-piece The City Never Sleeps a "refreshingly hard-to-categorize rock outfit...unsigned, relatively new on the music scene, but undeniably catchy." Listeners in the Capital Region and beyond are starting to take notice.
Conehead Buddha • 4:45pm - 5:30pm
From 1993 to 2002, legendary Capital Region band Conehead Buddha took their genre-bending blend of rock, ska, salsa and jam to appreciative audiences around the country. After a long hiatus from touring and recording, local music fans can rejoice- the Buddha is back!
---
SUNDAY, MAY 13
Sunday Main Stage
Washington Park Parade Grounds
Sponsored by Columbia Development Companies & Oldies 98.3
Zumba! with Instructor Carla Schlist • 12:30pm - 1:15pm
Zumba is an exhilarating, Latin-inspired and calorie-burning dance fitness workout. Millions of people worldwide are enjoying this joyful phenomenon to party themselves into better shape and overall health.
Higher Ground: A Tribute to Stevie Wonder • 1:30pm - 3:00pm
Made up of some of New York's finest musicians, Higher Ground is among the most dynamic and exciting tribute bands in the northeast. Paying homage to the amazing sounds of one of the world's most beloved musical talents, this astonishing band is sure to impress devoted Stevie Wonder fans and newcomers alike.
Mr. Dynamite: The Explosive James Brown Show • 3:30pm-5:00pm
The premiere James Brown Tribute Band in the U.S., Mr. Dynamite is a 10-piece powerhouse show band that has delivered explosive sets to audiences around the country. A truly exciting live band that combines precision choreography, musical wizardry and pure showmanship into a one-of-a-kind musical experience, Mr. Dynamite will leave you feeling like you've just witnessed the legendary Godfather of Soul burn up the stage.
---
Sunday Amp Stage
Washington Park Lakehouse Amphitheater
Sponsored by B95.5
14th Annual Mother of the Year Award • 12:00pm - 12:45pm
Presented by St. Peter's Health Partners, Times Union & B95.5 FM.
The Capital Region's most outstanding moms are recognized as Mayor Jennings and Joe Condon of B95.5 crown the 14th Annual Mother of the Year.
The Jenson Rhodes Band • 1:00pm - 1:45pm
With a sound landing somewhere between the White Stripes and Nirvana, Albany's The Jenson Rhodes Band plays cathartic, psychedelic rock n roll with attitude to spare.
John Brodeur • 2:15pm - 3:00pm
With music that spans indie-pop, alt-folk, and straightforward rock, New York singer-songwriter and one-man band John Brodeur has spun his ever-changing sound into a style all his own.
Milestone • 3:30pm - 4:15pm
Though all the members of the eclectic, energetic rock band Milestone are still in high school, this talented quartet is already making plenty of waves in the Capital Region music scene.
The Chronicles • 4:45pm - 5:30pm
Stylistically combining jazz, hip-hop, funk, soul and gospel into a unique sound beyond genre tags, Albany's the Chronicles have been flooring festival and club crowds across the northeast since 2009.
ALL WEEKEND
KidZone
Saturday & Sunday
Presented by Catseye, Price Chopper and Empire Blue Cross.
Media sponsors: WGNA & Q103 (Saturday), 104.9 The Cat (Sunday)
Featuring arts & crafts, the world-famous Soccer Collies, inflatables, balloon artist, facepainting, rock climbing wall, pony rides and much more!
Price Chopper KidZone Stage
Seth & The Moody Melix • 12:00pm, 2:15pm, 4:30pm
After receiving his Masters Degree in Elementary Education from the College of Saint Rose, Seth Warden enlisted the help of legendary local musicians Brian Melick and Doug Moody to create Seth and the Moody Melix, a multicultural musical experience designed to educate and entertain children of all ages.
Domino the Great • 12:45pm, 3:00pm, 5:15pm
Combining zany comedy with unique and artful magic, Domino the Great keeps audiences on the edge of their seats with an exceptional, one-of-a-kind act that everyone- of every age- will enjoy.
Circus Theatricks • 1:30pm, 3:45pm
Circus Theatricks introduces kids to the arts of juggling, tumbling, acrobatics, magic and more in this fun, interactive show.
SOLAR CITY'S GREEN MARKET (new this year!)
Near Willett & Madison Avenue entrance
Sponsored by Solar City, Waste Management & Seventh Generation, with additional support from Honest Weight Food Co-op .
This brand new Tulip Festival addition features a gourmet local farmer's market and a green expo highlighting energy efficient resources, recycling tips and more!
Go Green to the Festival!
Ride your bicycle to Tulip Fest and park at the bike racks, near Willett Street & Madison Avenue.
Or take the CDTA shuttle! Buses run continuously to Washington Park from Eagle Street Garage (at Eagle & Madison Ave) & Elk Street Parking Lot (at Elk & Hawk Streets) from noon-6pm.
---
This event is produced with the help of hundreds of volunteers. Volunteers are still needed. Please call to be a part of this great experience: 518-434-5411.
...

Special ground rules in effect: No alcoholic beverages, glass containers of any kind, animals or pets (excluding ADA-defined service animals). Any type of recording of the performance or presentation is prohibited without prior written consent. All attendees should be prepared to present age identification at any time if they intend to consume alcohol. Security personnel reserve the right to inspect any bag, container or package and confiscate any prohibited or illegal items.
# # #
Say Something!
We'd really like you to take part in the conversation here at All Over Albany. But we do have a few rules here. Don't worry, they're easy. The first: be kind. The second: treat everyone else with the same respect you'd like to see in return. Cool? Great, post away. Comments are moderated so it might take a little while for your comment to show up. Thanks for being patient.