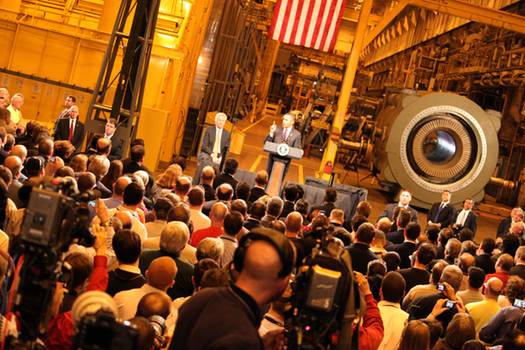 Update May 4, 2012: The President will be visiting UAlbany's College of Nanoscale Science and Engineering instead.
Barack Obama will be touring the GlobalFoundries chip fab next Tuesday (May 8), according to multiple reports -- Daily Gazette, AP, Times Union -- citing unnamed officials. A source tells the Gazette's David Lombardo it's an official visit, not a campaign stop.
We got a tip this morning that a visit to the area was in the works, but couldn't get an official confirmation. Apparently the administration has been laying the groundwork for logistics and lodging over the last month. We hear that an advance team is already in the area working on security. Our unofficial source says the plan includes the POTUS flying in Tuesday morning.
We're still waiting on official word from the White House about the visit. But Chris Gibson's office announced that Gibson and Paul Tonko would have media availability this afternoon at Saratoga STEP campus to talk about the upcoming presidential visit.
This will be the President's third visit to the Capital Region. He visited HVCC in 2009, and GE in Schenectady last year. In both those visits, the President flew in and out on the same day.
In a way, a visit to the GloFo fab brings together Obama's previous two visits. At HVCC, he highlighted training for skilled manufacturing jobs. And at GE he highlighted sophisticated manufacturing in America. The chip fab represents the product of both.
Hi there. Comments have been closed for this item. Still have something to say? Contact us.